NOTE: this was a past issue of my weekly newsletter, Timeless Gems. Join my free mailing list so you don't miss out on future issues.
Today's gem is this diagram which outlines the capital allocation strategy for RCI Hospitality (strip club operator).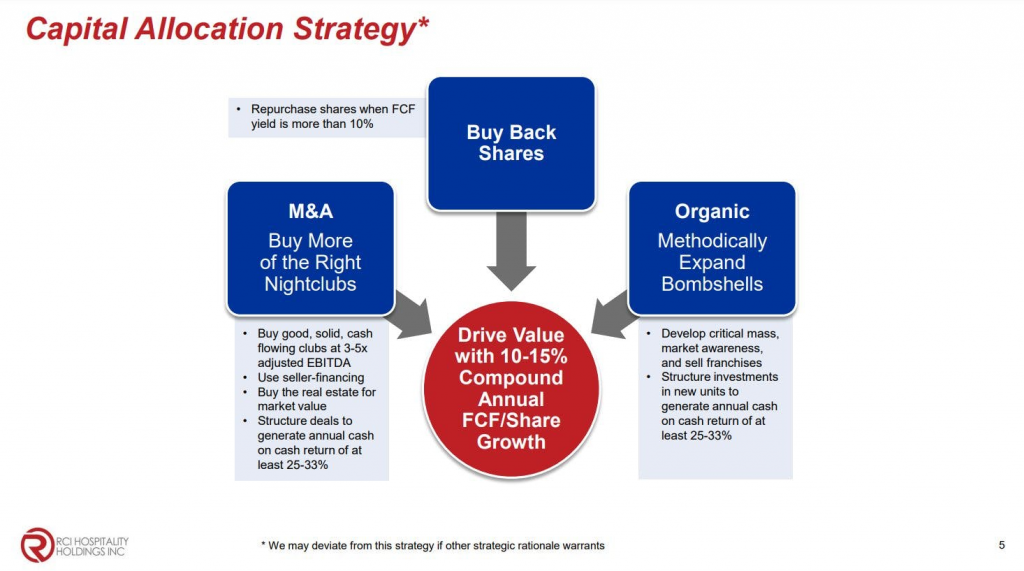 RCI Hospitality is a publicly traded (NASDAQ:RICK) operator of strip clubs, nightclubs, and other adult entertainment venues. I actually don't know much about the business or their venues (I swear) but it's nice to see that they have a well-defined playbook for allocating capital. It appears to be a sound strategy and a simple framework for driving shareholder value.
Most business owners or CEOs I speak with don't even consider capital allocation for their businesses. Many just default to organic growth, even if it's clear that it isn't the best use of capital. I've previously written about how to approach capital allocation as an entrepreneur by deliberately considering all options both inside and outside your business.
I took the diagram from this tweet thread by RCI's CEO. He seems like an interesting fellow and is constantly engaging with folks on Twitter and sharing insights about his business. Give him a follow!
P.s. the CEO mentioned that RCI's capital allocation strategy was inspired by the book The Outsiders. It's one of my favoutite books of all time, and in fact, made my top 3 list for 2020.