I took some time to update my reading list which gave me an opportunity to reflect on all the books that I read in 2020. I read a lot of great books in the past year, but 3 really stood out.
Narrowing it down to just 3 wasn't easy, but by sharing what I enjoyed about each one I hope to inspire you to add it to your 2021 book list.
The Man Who Solved The Market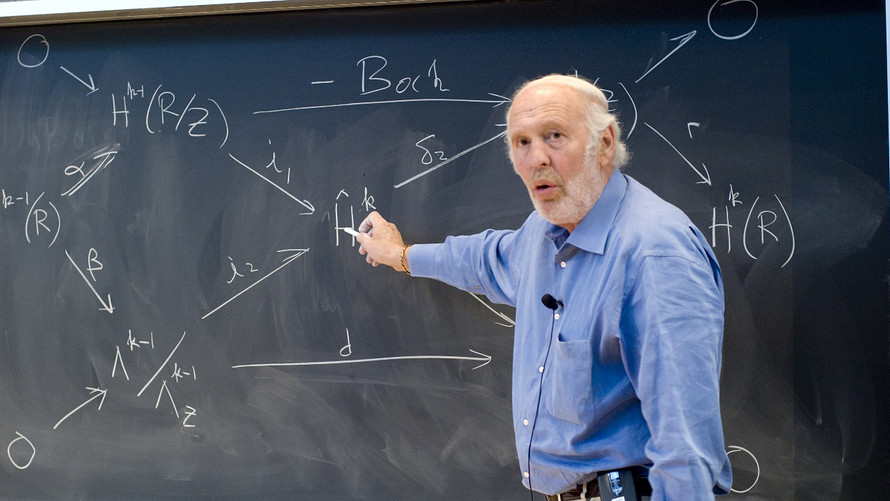 This book details the unbelievable story of Jim Simons, one of the greatest money makers in modern finance history. Jim, a mathematician by trade, has generated a $23 billion dollars net worth as an investor.
Jim pioneered quantitative trading, and to say that he mastered it would be an understatement. Just take a look at Renaissances Technologies Medallion Fund track record: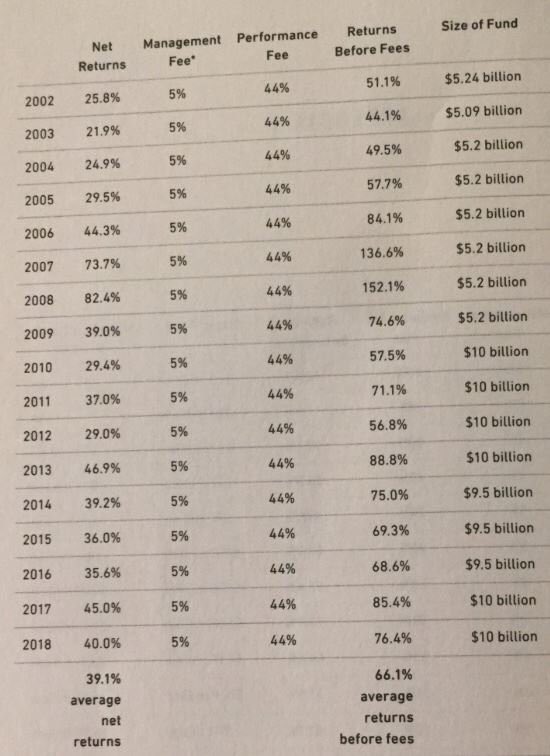 That's right, Renaissance's signature Medallion fund has generated average annual returns of 66 percent before fees. The firm earned profits of more than $100 billion; making Simons a very wealth man.
What I liked about this book?
There are a few things that blew my mind about Jim. First, his unwavering ability to persevere. It took a long time for Jim to figure out a winning formula. Jim had plenty of failed experiments where the algorithms built didn't deliver the intended results and he lost money. He didn't give up, he kept improving the formula until it worked, consistently. Having the perseverance to do something that has never been done before is admirable and commendable.
Jim gets a lot of the credit for the success of Renaissance Technologies, but not enough praise for his ability to recruit talent. Jim had an all-star team helping him – from top mathematicians to physicists, to statisticians. And those that worked alongside him went on to influence the world beyond finance. His ability to attract and retain top talent shows that hiring giants is key to grow a business and even take it to levels that you did not anticipate.
Thirdly, Jim's has built the most unique hedge fund of all time. Most hedge funds don't have a true differentiator or competitive advantage, but Renaissance Technologies does – its proprietary and wildly profitable algorithms. Jim built a defensible investment firm; it's so defensive and lucrative that it no longer takes any outside investors. Today, The Medallion Fund only invests money from Jim and it's current employees.
The Outsiders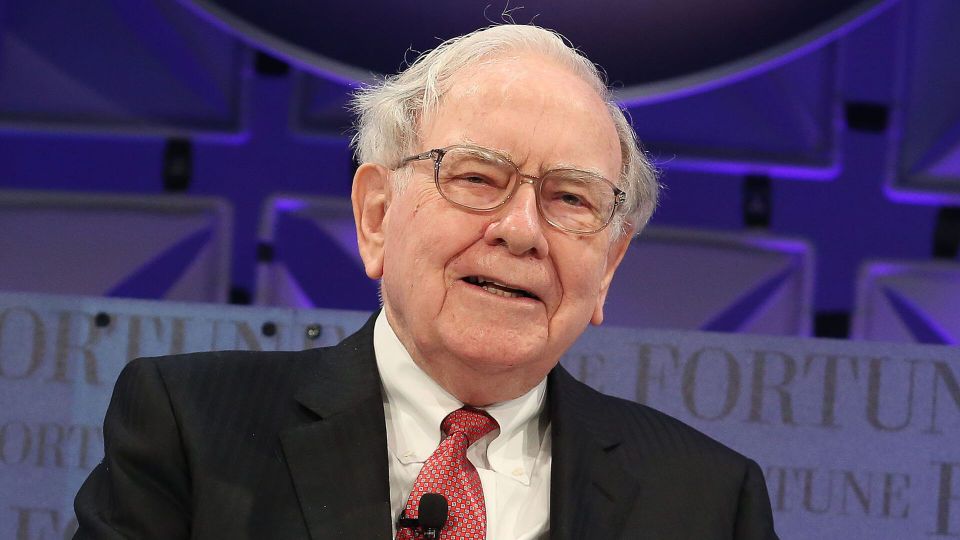 This book is a staple for investors, and I am surprised it took me this long to come around to reading it. It details "outsider" capital allocators, who are non-traditional leaders of organizations that have had a successful track record. The 8 capital allocators that are profiled in this book are:
Tom Murphy of Capital Cities Broad Casting
Henry Singleton of Teledyne
Bill Anders of General Dynamics
John Malone of TCI
Katharine Graham of The Washington Post Company
Bill Stiritz of Ralston Purina
Dick Smith of General Cinema
Warren Buffett of Berkshire Hathaway
What I liked about this book?
This book is proof that capital allocators/investors make great (if not the best) CEOs. All the capital allocators profiled followed non-traditional paths to get to the helm of their organization. But all had one thing in common – their operating philosophy/style and their capital allocation decisions. This table sums it all up: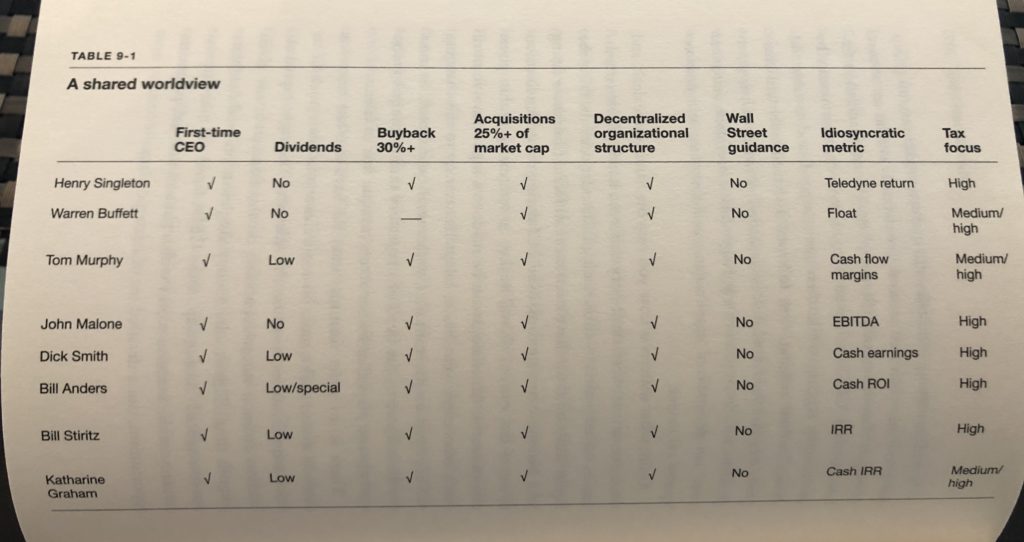 Fun fact: the widely-used metric, EBITDA, was first invented and used by John Malone.
The author does a fantastic job of summarizing each of their key decision-making criteria and modus operandi in just a few pages. All substance, no fluff. So much so that it left me wanting more. I hope the author publishes a part 2, profiling current top capital allocators like Mark Zuckerberg, Jeff Bezos, and Mark Leonard.
The Gambler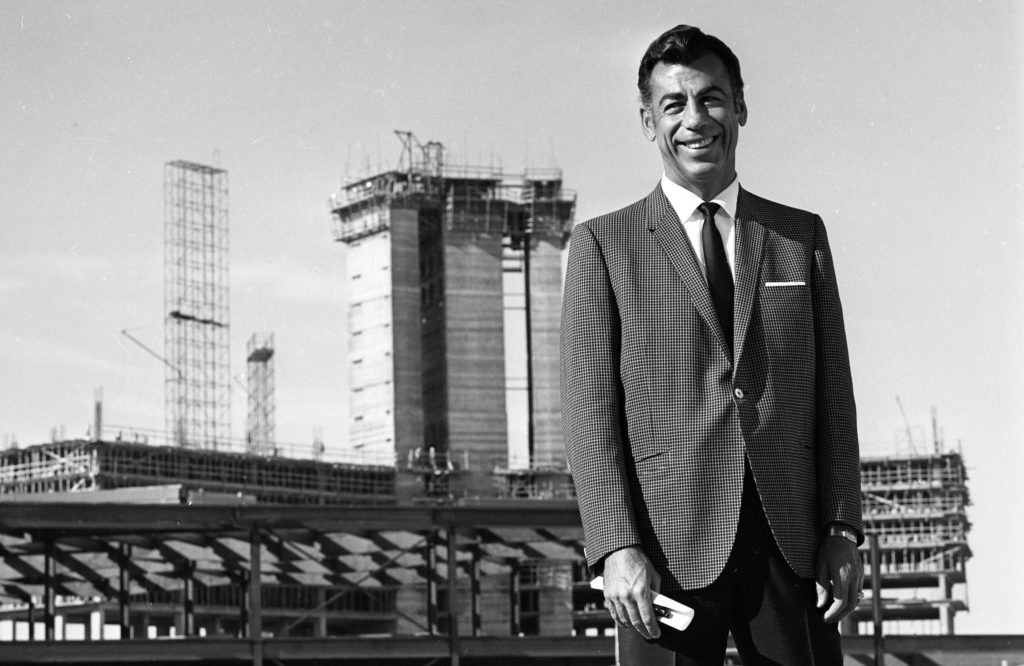 Kirk Kerkorian was perhaps the greatest but least-known deal maker in the history of capitalism. This engrossing biography takes us into his multifaceted world – the world of an aviator, movie mogul, risk-taker, and business tycoon who transformed Las Vegas and Hollywood to become one of the leading financiers in America. The author (an investigative reporter) does an amazing job of revealing Kerkorian's long-guarded history to introduce a complex investor who lived a life that was filled with twists and turns.
What I liked about this book?
Who doesn't love a great rags-to-riches story? I enjoyed this book so much that I actually published an entire blog post on the key lessons from The Gambler.
Kirk's deal-making style was unorthodox, to say the least. His propensity to make massive bets throughout his life (trust me when I say he didn't slow down with age) was both fascinating and inspiring. If you're into acquisitions and big-time deal-making, this book is a must-read!
What are some of the best books you read in 2020? Tweet me @jayvasdigital. I would love your recommendation on what to read next.
---
Hi there! I'm Jay Vasantharajah, Toronto-based entrepreneur and investor.
This is my personal blog where I share my experiences building businesses, making investments, managing personal finances, and traveling the world.
Subscribe below, and expect to get a couple of emails a month with some free, valuable, and actionable content.