NOTE: this was a past issue of my weekly newsletter, Timeless Gems. Join my free mailing list so you don't miss out on future issues.
Today's gem is this excerpt from the book Junk To Gold where the founder of Copart (Willis Johnson) is explaining his auto salvage & auction business model to a Wall Street investment banker that was skeptical of working with Copart.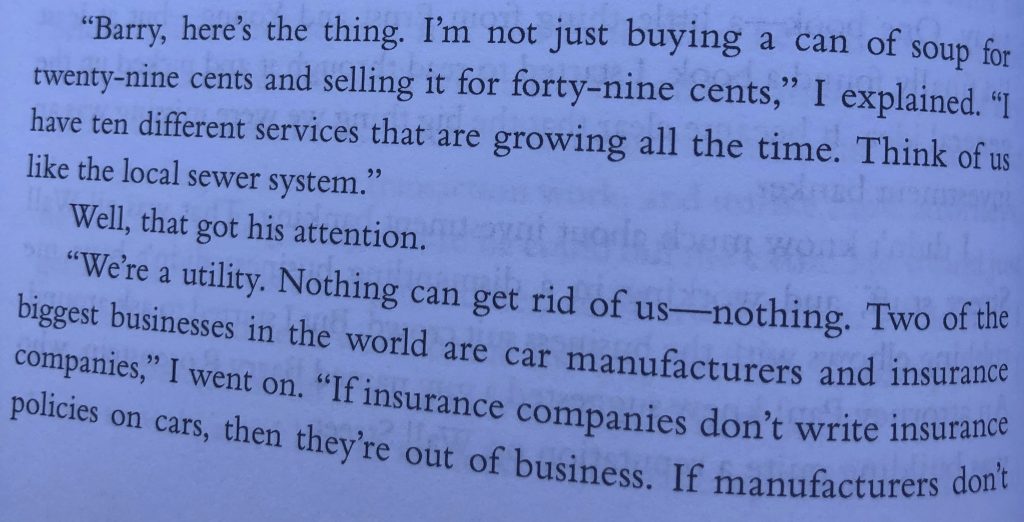 I love the simplicity and framework used to describe Copart, absolutely brilliant. Barry (the investment banker), went from being hesitant about the business to instantly becoming a believer. For those unfamiliar with the business, Copart sources wrecked cars from insurance companies, stores them on their junkyards, and then sells them via their online auction. Willis Johnson started the business by acquiring his first junkyard for $75k and has grown through acquisition to become the $25bn behemoth it is today.
Last week I shared an article on medical practice roll-ups, and mentioned that rollups are tough to execute, but can be lucrative if executed well. Copart is an example of a well-executed roll-up. The auto salvage & auction business has all the hallmarks of an industry that was ripe for consolidation, and where a rollup made sense. Before Copart, it was a fragmented industry with lots of mom-and-pop players. Besides the operating prowess of Willis & Co., I believe the key ingredients to their successful roll-up were:
Economics of scale – overhead/operating costs plummeted as operations grew. (mediocre rollups usually stop here)
Network effect – each additional junk yard acquisition increased the value of the network. The more salvaged cars on their auction platform, the more buyers. The more buyers, the more salvaged cars insurance companies give to them.
Supply constrained – government regulations basically made it incredibly difficult and costly to open a new salvage yard near any major metro after the Copart rollup was underway. Since it's near impossible for new entrants to open up shop, the supply of auto salvage yards stagnated.
That last point is really important. In order for a roll-up to be value accretive, it needs to successfully reduce the supply. If new entrants are popping up every day (as in the case of medical practices), this will never happen. Copart's rollup was so successful at reducing that supply that today auto salvage & auction business is a duopoly between them and IAA.
I am truly fascinated by Copart, it has one of the most impenetrable moats of any business I've ever come across. Willis was NOT exaggerating when he said "You can't have the system without us".