I come across popular quotes from successful people all the time. Often, they're not very practical or just too abstract to really be of any help.
But I recently came across a quote from Charlie Munger that hit home like none other.
The first $100,000 is a bitch, but you gotta do it. I don't care what you have to do – if it means walking everywhere and not eating anything that wasn't purchased with a coupon, find a way to get your hands on $100,000. After that, you can ease off the gas a little bit.

Charlie Munger
Charlie said this at a Berkshire Hathaway shareholder meeting in the 1990s in response to a young man who asked him for his best advice on creating wealth.
It was incredibly refreshing to read this in the sea of "just buy low, sell high" type quotes. I immediately connected with this quote because it is so relevant to my own career path.
Here's how I hauled ass for that first $100k and how it materially changed my life and wealth.
Driving Cabs While Working At Deloitte
I was recruited out of university to work for Deloitte in their downtown Toronto office. This was considered a dream job by many, and I was very grateful to have obtained it. But I knew I wanted to be an entrepreneur and investor, and I also knew that I needed to save up cash to make this happen. More specifically, I was determined to get into real estate investing and buy an income property as soon as possible.
As an entry-level consultant, I was earning about $50k a year before taxes. My entry-level salary wasn't going to cut it, so I had to find another source of income. The only way I knew how to make fast cash at the time was driving cabs.
I would work for Deloitte during the week and then jump in one of my dad's cabs to drive both Friday and Saturday nights (this was before Uber existed). By doing this, I earned an extra ~$500 per week or ~$25,000 per year. This increased my income by 50% to around $75,000.
Many of my friends thought I was crazy and wondered why was I working a respectable office job and then driving cabs on weekends. In fact, I vividly remember one night I actually picked up one of my colleagues from Deloitte, he was flabbergasted to see me as the driver (it was very embarrassing). Oh well, I had a goal in mind, I stuck to it and sacrificed all my free time and ego in the process.
But earning money is only half of the equation, saving it accounts for the other half.
Extreme Frugality
While I was earning this income, I did everything I could to save every penny of it.
I lived in a condo with 2 other roommates. I took the den because it was the cheapest of the 3 rooms. It had no windows, my bed barely fit in there and it didn't even have a lock on the door. The most prized possession in my room was a Michael Jordan poster that I printed for free to give me inspiration.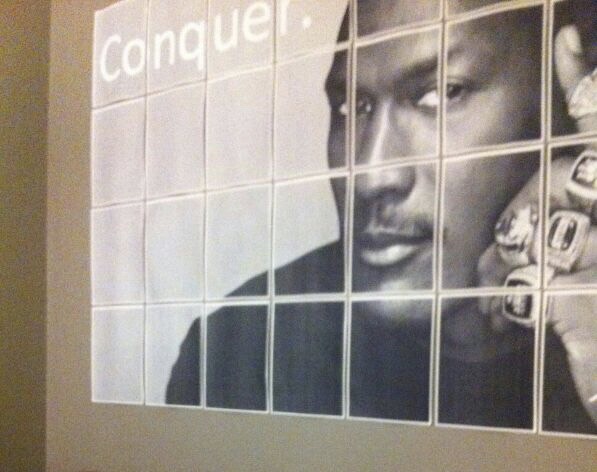 I did all the standard money-saving things like walking to work instead of paying for transportation, keeping a small wardrobe, and cooking at home instead of eating out. Rather than going out to eat like most of my co-workers, I'd show up to work with 2 briefcases – 1 containing my work stuff and the other containing my lunch and dinner (this gave me the appearance of being super busy with work while hiding my frugality).
But I had to have a bit of fun, so on Thursday nights, I would go to a local Irish pub that was popular among students (but avoided by anyone with a decent paying job). They charged no cover and offered cheap drinks!
What It Did For My Wealth
Within 2 years I was able to save up nearly $100k (I think the exact amount was somewhere between $80-$90k). I used that money to put 20% down on a cash-flowing triplex in a town 45 minutes north of Toronto. At that point, I owned an asset worth ~$400k that was producing a steady stream of income each month. This allowed me to more comfortably quit my job at Deloitte and launch my first business.
Cash flows from my first business and my triplex allowed me to reinvest into more real estate and stocks. As my cash flows and asset values continued to snowball, it enabled me to invest in riskier/higher potential opportunities like my eCommerce business and tech startups. I now manage a diversified portfolio of investments full-time and haven't had to worry about a salary in years. It also enabled me to have a lot more free time to read/write, travel the world, and work on projects I want.
And it all started from that first $100k I hauled ass for.
Final thoughts
$100k is just an arbitrary number and it probably needs to be adjusted for inflation in 2020. Either way, the principle still remains, set an achievable target around that amount, and haul ass till you reach it.
Put your pride aside, stop worrying about what others think, and focus on earning and saving as much as you can. Once you achieve the target, invest wisely and your money will compound. It will set in motion a level of financial freedom that will allow you to take your foot off the pedal a bit (if you'd like to).
Charlie Munger's words still ring true decades later and I am living proof of it.
---
Hi there! I'm Jay Vasantharajah, Toronto-based entrepreneur and investor.
This is my personal blog where I share my experiences building businesses, making investments, managing personal finances, and traveling the world.
Subscribe below, and expect to get a couple of emails a month with some free, valuable, and actionable content.