DISCLAIMER: This blog post is for informational purposes only, you should not construe any such information or other material as legal, tax, investment, financial, or other advice. I hold a long-term position in INMD.
Historically, my exposure to public equities has been low. I prefer to allocate mostly to private businesses & real estate instead. Every now and then I come across opportunities in the public markets where I feel compelled to make a large bet.
In this post, I'm going to share another one of my bets, a non-invasive medical device company called InMode (ticker INMD). I'm long-term bullish on InMode, here's why.
Boxes and consumables
Light-based aesthetic treatments (minimally-invasive & non-invasive procedures) include things like laser hair removal, skin tightening, photofacials, and body contouring. Plastic surgeons, medical spas, and aesthetic practitioners offer these types of treatments.
Most aesthetic light-based medical device manufacturers sell "boxes" and "consumables". A box is a machine that generates the laser for the treatment. These boxes usually sell for $150k-300k.
A consumable is needed to operate the box and typically needs regular replacement. Consumables are items like light bulbs, batteries, parts, etc. They typically generate around $5-15k per year for medical device manufacturers.
Together, a box + consumables can typically perform 1 type of treatment. For example, if a plastic surgeon bought a body contouring box and a year later wanted to offer skin-tightening solutions, he/she would have to invest $150k-300k to buy a new skin-tightening box.
Handpieces and InMode's Moat
InMode innovated a way for 1 box to perform different treatments by using different handpieces. This means that practitioners can add new services for a fraction of the cost by buying more handpieces. These handpieces usually sell for $30-50k each.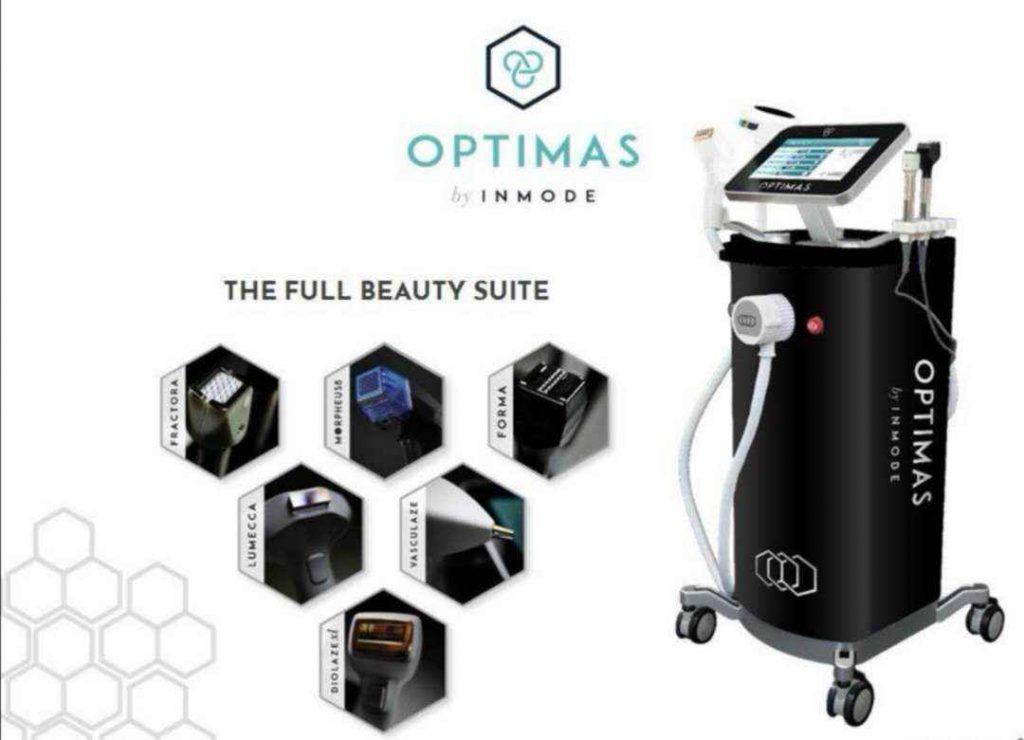 Most medical device companies get a lump sum of money upfront when the box is purchased, followed by small recurring purchases for consumables. But InMode gets a lump sum upfront, followed by large recurring purchases for different handpieces.
InMode's boxes create an exclusive distribution channel to sell their handpieces. So every box InMode sells strengthens their moat.
The industry
Medical aesthetics is the fastest-growing segment in the healthcare industry. People are increasingly opting for laser/non-invasive treatments over going under the knife. These treatments are a lot more affordable, low risk, with fast results, and a short (or no) recovery time.
Social media sharing and influencers (Kardashians) have reduced the stigma and made it more mainstream and acceptable. Younger consumers are now making aesthetics part of their beauty and anti-aging routine, and overall lifestyle.
Both factors widely broaden the patient pool and results in great tailwinds for InMode.
The founders
InMode is still run by its founders (Dr. Michael Kreindel, Yair Malca, and Moshe Mizrahy) who own a large chunk of the company (~30%). They clearly have skin in the game.
The founders are also pioneers in the medical aesthetics industry. They have already built and sold another medical aesthetic device company for hundreds of millions of dollars (Syneron).
The numbers and valuation
InMode is wildly profitable, they generated $61m in net profits last year on $156m of revenue. This represents a 35% return on equity. Their gross margins are routinely above 85% with strong YoY revenue growth. InMode had about $200m in the bank as of June 30, 2020, a strong war chest to continue expanding and weather any storm.
InMode currently trades at ~$1bn valuation which represents 16x TTM earnings. The company is experiencing a healthy growth rate and is very well managed. On top of the continued earnings growth I would expect, there is also plenty of room for multiple expansion.
For a competitor valuation analysis, Cynosure (one of their largest competitors) was acquired in Q1 2017 for $1.7bn and they generated around $15m net profit in FY 2016.
Hologic had no business acquiring Cynosure though. They're in a completely different industry and botched everything they possibly could post-acquisition. This in turn helped with the rise of InMode.
There is no reason why $INMD couldn't fetch a $3bn+ valuation long-term, representing 3x+ ROI from here.
Final thoughts
I like to make a couple of fun bets a year and add interesting opportunities to my otherwise boring stock portfolio. I am very bullish on InMode, it is a well-managed company with a fantastic moat that has a great runway for growth.
Adding INMD to my stock portfolio is a no-brainer to me.
---
Hi there! I'm Jay Vasantharajah, Toronto-based entrepreneur and investor.
This is my personal blog where I share my experiences building businesses, making investments, managing personal finances, and traveling the world.
Subscribe below, and expect to get a couple of emails a month with some free, valuable, and actionable content.