NOTE: this was a past issue of my weekly newsletter, Timeless Gems. Join my free mailing list so you don't miss out on future issues.
---
Sponsored by Tegus​
It's simple, inefficient investor workflows hamper opportunities.
Stop wasting time and energy searching for the information you need and start with the data everyone else finishes with. Let Tegus be your end-to-end research operating system and surface actionable data that helps you drive better, faster investment decisions.
For a limited time, readers of my newsletter can trial Tegus for free.
---
Today's gem is this checklist to help you assess whether a business has pricing power.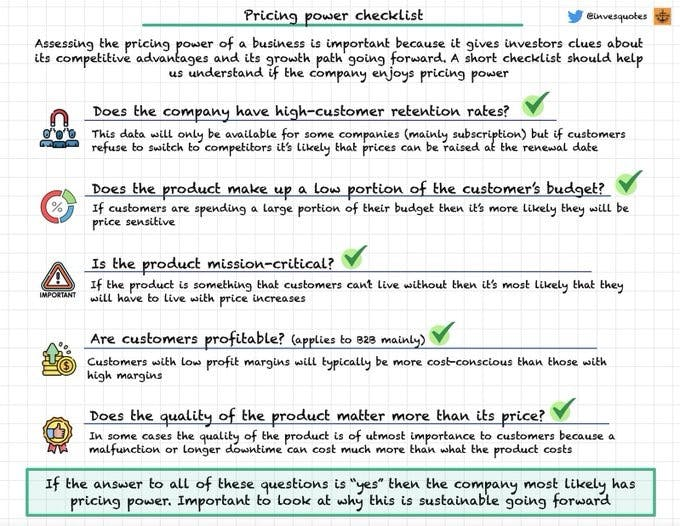 I talk about pricing power so frequently that, at this rate, I might as well become known as "The Pricing Power Guy". But seriously, this is a great checklist. It covers a lot of what I look for when assessing pricing power in a business that I'm looking to acquire or invest in.
So why am I obsessed with pricing power?
The mere ability to increase prices (without major adverse reaction from customers) tells you a lot about a business and its competitive position. I've been involved with businesses that have pricing power, and businesses that don't and there is a drastic difference between the two. I could probably write a 5,000-word essay on it. But to summarize it:
Businesses that can regularly increase prices survive longer, generate more profits and drive higher returns on capital for owners.
The core of my investing philosophy is finding businesses with pricing power that I can buy/invest in at an attractive price. It's a simple idea, but I am taking it very seriously.
Shoutout to Leandro for putting this list together. Give him a follow!