Owner-owned and operated service businesses can be a great source of profits. I've already gone over the reasons why your first business should be a service business. But just because you launch a service business doesn't mean that it will generate outsized amounts of cash, let alone be profitable.
I ran a service business for 5 years called ClientFlo, a digital marketing agency. Here is the consolidated cumulative profit & loss statement for ClientFlo: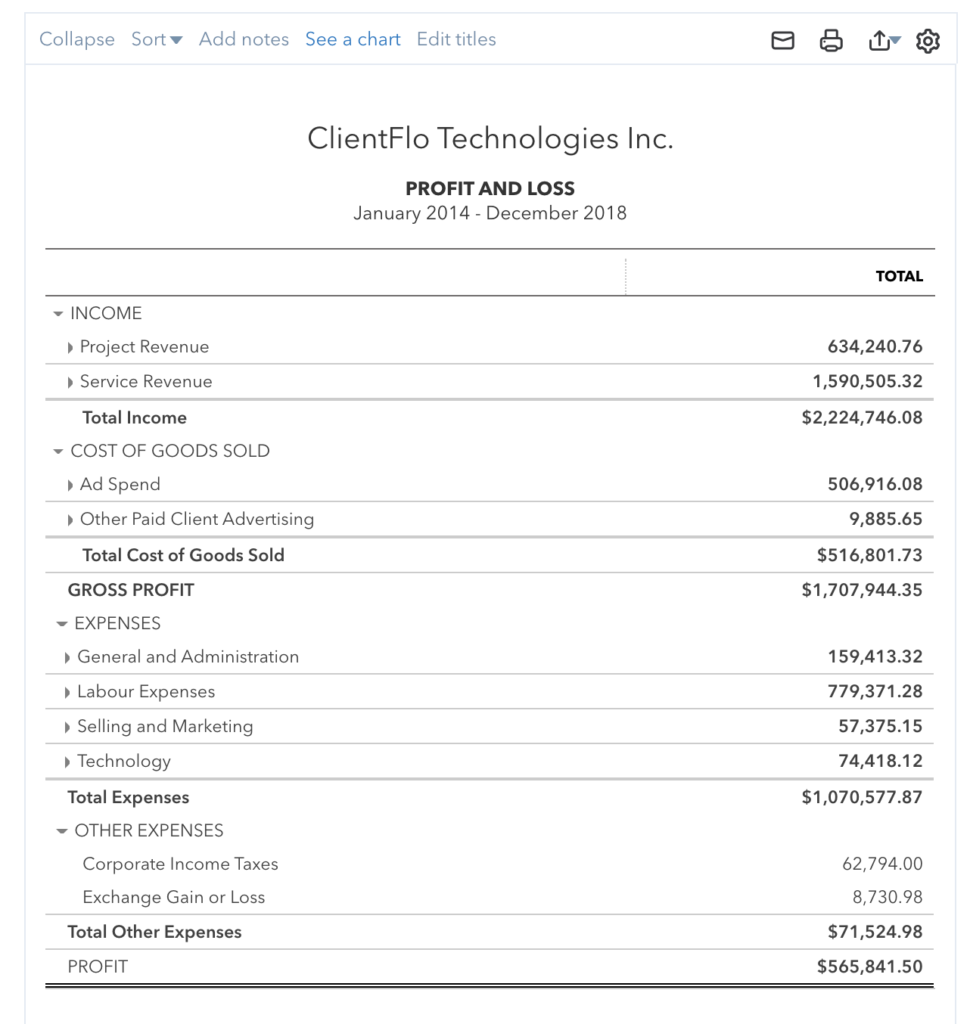 I calculated an additional ~$410k in expenses that would be considered part of owner earnings, also known as seller's discretionary earnings (owner salary, rent, meals, travel, utilities, etc). Adding that to the $566k net profit would bring owner earnings to around $976k, representing a ~43.8% owner earnings margin.
This cashflow allowed me to build my personal investment portfolio and help me get to a point where I manage my investments full-time.
Here are the key lessons I learned in maximizing profits for my service business.
Pick a niche offering
One of the common mistakes is trying to be a jack of all trades. For example, many digital marketing agencies provide several types of digital services like website development, pay-per-click ad management, social media services, and email marketing.
Not only is it hard to differentiate yourself from competitors, but its also hard to master and optimize multiple services. By choosing a single niche service within your category you can charge more and better systemize your offering to drive costs down.
When choosing a niche service offering, ensure it has the following characteristics:
Teachable – it doesn't require a high degree of judgment, it's possible to train someone inexperienced
Valuable – there is a clear value add to customers (it's going to make them money or save them money/time)
Repeatable – there isn't a large variance of quality, every client gets the same type of service/results (think, McDonalds, a Big Mac tastes the same no matter where you go)
At ClientFlo we strictly offered pay-per-click (PPC) ad management services. Clients would often ask us for complimentary services like web design or search engine optimization, but we always turned it down. By doing this we were able to distinguish ourselves from competing generalist digital agencies and charge a higher rate to our clients because we performed better.
Pick a niche industry
This further drives home the previous point, there are riches in niches. Many service business owners cater to a wide range of industries and are worried that if they choose a niche they will miss out on more business.
By picking a specific industry to specialize in, you develop expertise in your clients' field. Similar to the previous point, as a specialist firm, you can charge more and systemize processes to drive costs down. Not to mention, by specializing in a specific industry – you became known as the go-to firm for that industry. This will give you a substantial edge over your competitors that service every industry.
In the first couple of years at ClientFlo, we focused mainly on professionals (lawyers, accountants, dentists, surgeons, etc). By the third year, we ended up specializing in medical aesthetics, and we became known in the industry as the go-to PPC agency. ClientFlo went from competing with dozens of PPC agencies to competing with 1-2 other medical aesthetic PPC agencies. We were inundated with referrals and inbound inquiries as we established a name for ourselves as experts in the field.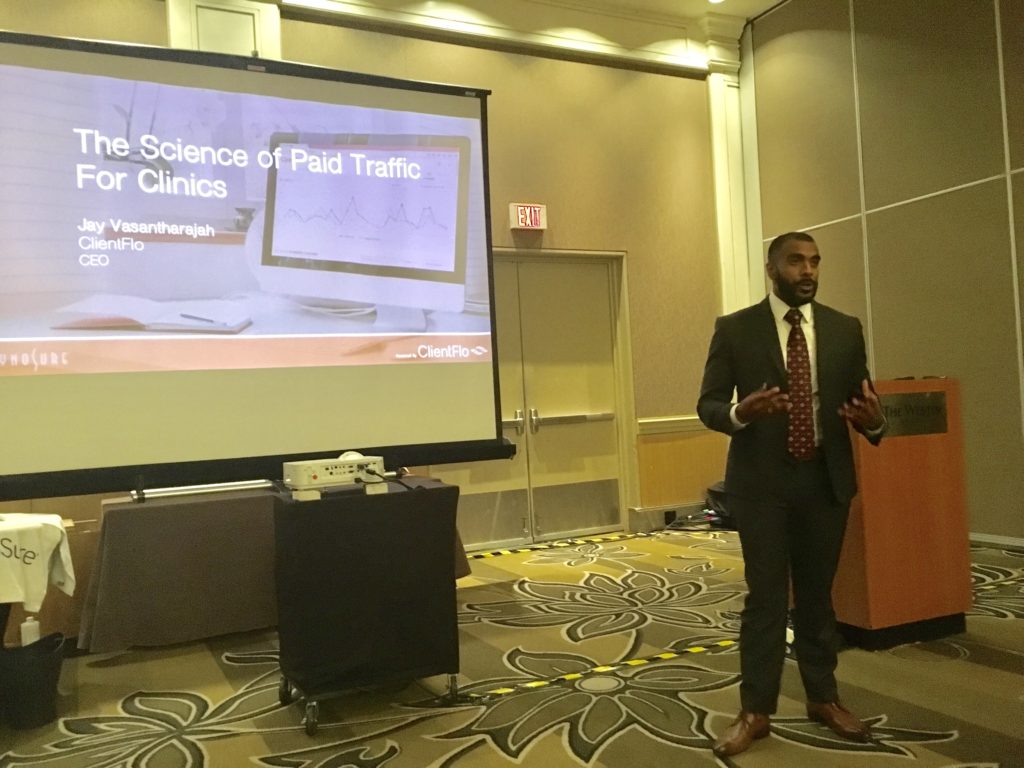 Build a sales pipeline
Many service businesses rely on word-of-mouth, referrals, and their reputation to generate new sales. It's hard to predictably grow your cash flows this way, and your business might actually end up being a risky hobby (you only get cash when something lands in your lap by chance).
Aim for a repeatable and scalable way to acquire new clients. This typically entails outbound sales, like cold calling. Generate new leads, pitch, and close new contracts in a predictable fashion. Your sales pipeline should look like a math equation:

Predictable sales = Predictable profits.
Cold calling was the first thing I did at ClientFlo to make sure that our sales pipeline never dried up. The numbers became very predictable, allowing me to hire salespeople, and manage their career growth. The formula was simple, hours in, cash out.
Build processes and systems
Often times service business owners are passionate about their craft. Therefore, they feel like an artist when they deliver a service and strive to deliver a bespoke experience to each of their clients.
Unfortunately, this just isn't scalable, which means you will never be able to drive your costs down (or reduce your time spent). Treat your service business like its a factory. The service is delivered on a conveyor belt and anyone that can read the standard operating manual can pull the levers to work the machine.
At ClientFlo we had very strict operating manuals and guidelines, from how to set up campaigns, manage them, and report on results. It was a step-by-step process that followed regimented procedures and checklists. I spent countless hours improving these processes, optimizing inputs, and outputs. As a result, even a junior entry-level employee could operate at a high level in my organization. This allowed me to drive costs down and increase profits.
Automate/outsource
If you build processes and systems well, you should be able to automate and or outsource many of them. Either find ways to develop technology or tools to automate processes, or find existing SaaS products that are available for you to utilize. Also, hire offshore labour in low-cost jurisdictions like India, Ukraine, and The Philippines to help run your processes and systems. This is simple labour arbitrage, clients pay you a local rate while you pay an offshore rate.
At ClientFlo, we built various tools to automate campaign setup, research, ad management, and client communication. We also heavily utilized offshore labor to assist us with delivering our service which further drove costs down. The combination allowed me to squeeze out more profits from my PPC agency.
Final thoughts
Service businesses, if run properly, can be a profit-generating machine. As an owner, using that excess cash flow can allow you to reinvest and rapidly diversify your wealth. But the above principles need to be applied to your service business in order for it to be profitable.
My PPC agency generated nearly $0.43 in owner earnings for every $1 of sales, which totaled almost $1m over 5 years. I used this cash flow to reinvest and diversify my personal portfolio, build wealth, and move onto bigger projects.
I hope that these lessons I've learned in maximizing profit can add value to your service business!
---
Hi there! I'm Jay Vasantharajah, Toronto-based entrepreneur and investor.
This is my personal blog where I share my experiences building businesses, making investments, managing personal finances, and traveling the world.
Subscribe below, and expect to get a couple of emails a month with some free, valuable, and actionable content.