Getting customers to go out of their way to write you a review is tough. Especially when the product is as boring as a furnace filter.
I believe developing a customer feedback loop is important for any business. You should be optimizing your entire operations based on what customers are telling you.
At PureFilters, we developed an entire system dedicated to actively obtaining feedback from our customers. We've worked really hard to get feedback from my customers, and over the course of 5 years we have generated almost 400 positive reviews.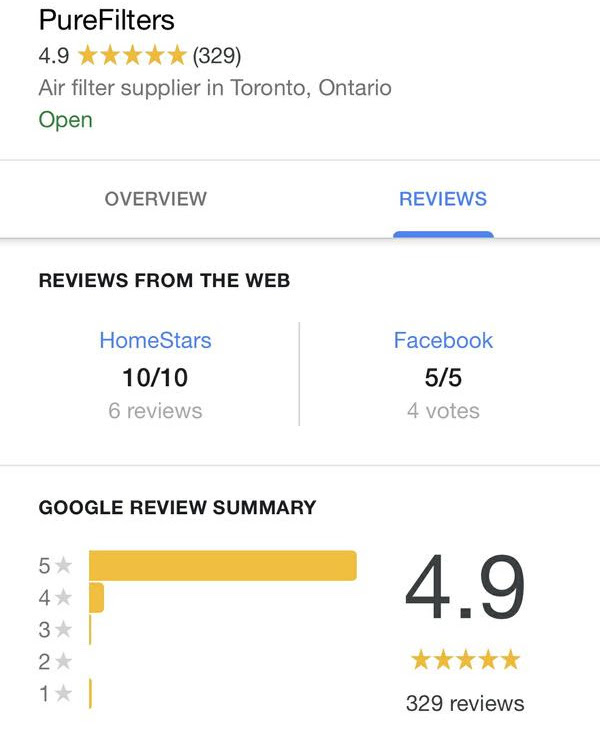 This really served as an important digital asset for our business. Our target demographic is typically older homeowners, who are still somewhat distrusting of making online transactions. When they would Google "PureFilters reviews" they would see a number of glowing reviews from our customers which would put their mind at ease.
Google Business Page by Default
Our Google business page was automatically created at some point, either it was crawled in or indexed. It ranked at the very top whenever someone Googled "PureFilters reviews" and therefore some customers started leaving reviews there before we even started our review strategy.
We figured, since it was free and we already had a handful of reviews, let's continue to use the Google business page to collect reviews on. Not to mention, you need a Google account to leave a review, so it provided a bit of authenticity.
This was a horrible mistake.
Google Listing Vanishes
One day, we received a message from a customer claiming that there was no Google page to leave their review. We checked and confirmed, that it had completely vanished.
Since Google business pages is a free product, support for it was very limited. I called into the support line, which routed me to a call centre in India. The attendant told me not to worry and everything will be back up online, they just need to verify some details.
From there, they emailed me requesting our business license, which I thought was kind of odd.
But I complied and sent them it.
After that they required further verification and wanted me to take a photo of the exterior of our office, which I thought was even more odd.
But I complied and sent them it.
After that they basically told me that Google business pages were for local/retail businesses that have a storefront. Since PureFilters was an online/eCommerce business, apparently we weren't eligible to have a Google store page.
I asked them if I could transfer my ~400 reviews to some other Google product, but they declined and proceeded to terminate our page.
All ~400 reviews were instantly deleted, forever.
I did what any sensible founder would do and rant about it on Twitter, which eventually led to Google DMing me. The conversation ended the exact same way as before: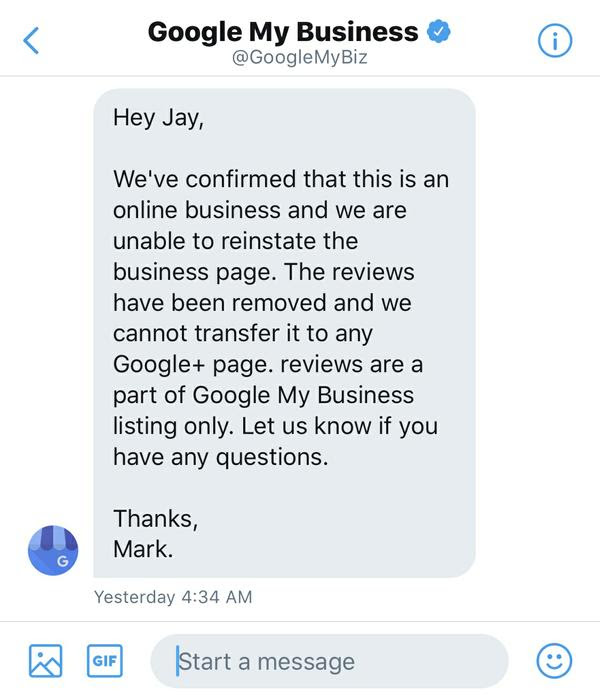 Hard Lesson Learned
What took almost 4 years to build up vanished completely in an instant. As mentioned earlier, our target demographic are typically older homeowners, which are still quite skeptical of making purchases online. The positive online reviews served as social proof which significantly helped them feel more comfortable buying from PureFilters online.
When the reviews disappeared, it did have a big impact on our sales and overall business.
The biggest lesson learned here is that we should have take steps to diversify our digital assets. A painful lesson, but an important one nonetheless.
We've went back and asked a bunch of customers to leave another review, and we are grateful that many have.
When asking customers to give us feedback, we now alternate between various review platforms including TrustPilot, Facebook and BBB. The TrustPilot reviews are nice, requests are only sent to customers so the reviews are verified.
Funny enough, TrustPilot reviews count towards your "Google Seller Rating" and the, now deleted, Google business reviews did not. Your Google Seller Rating gives you stars underneath your Google Ads. So I guess that's a bit of a silver lining.
Here is our current Google Seller Rating page: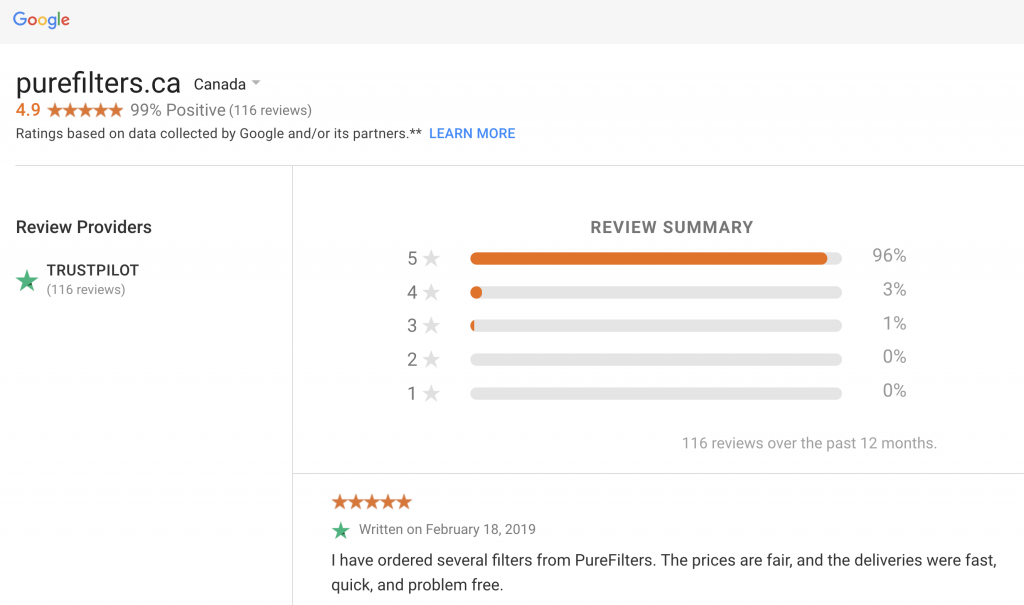 So overall, when using another company's infrastructure, especially if it's free, always ask yourself "If this digital asset completely disappeared, how would it effect my business?" Take steps to diversify your company's digital assets, which includes where you collect your reviews.
---
Hi there! I'm Jay Vasantharajah, Toronto-based entrepreneur and investor.
This is my personal blog where I share my experiences building businesses, making investments, managing personal finances, and traveling the world.
Subscribe below, and expect to get a couple of emails a month with some free, valuable, and actionable content.