NOTE: this was a past issue of my weekly newsletter, Timeless Gems. Join my free mailing list so you don't miss out on future issues.
---
A hill I am willing to die on: distribution is far more important than product.
A business that has better access to customers will beat out the business with a better product, 9 times out of 10.
To see this in action, just look at Teams vs Slack. Slack was a pioneer in product-led growth and everyone I know HATES Teams, yet…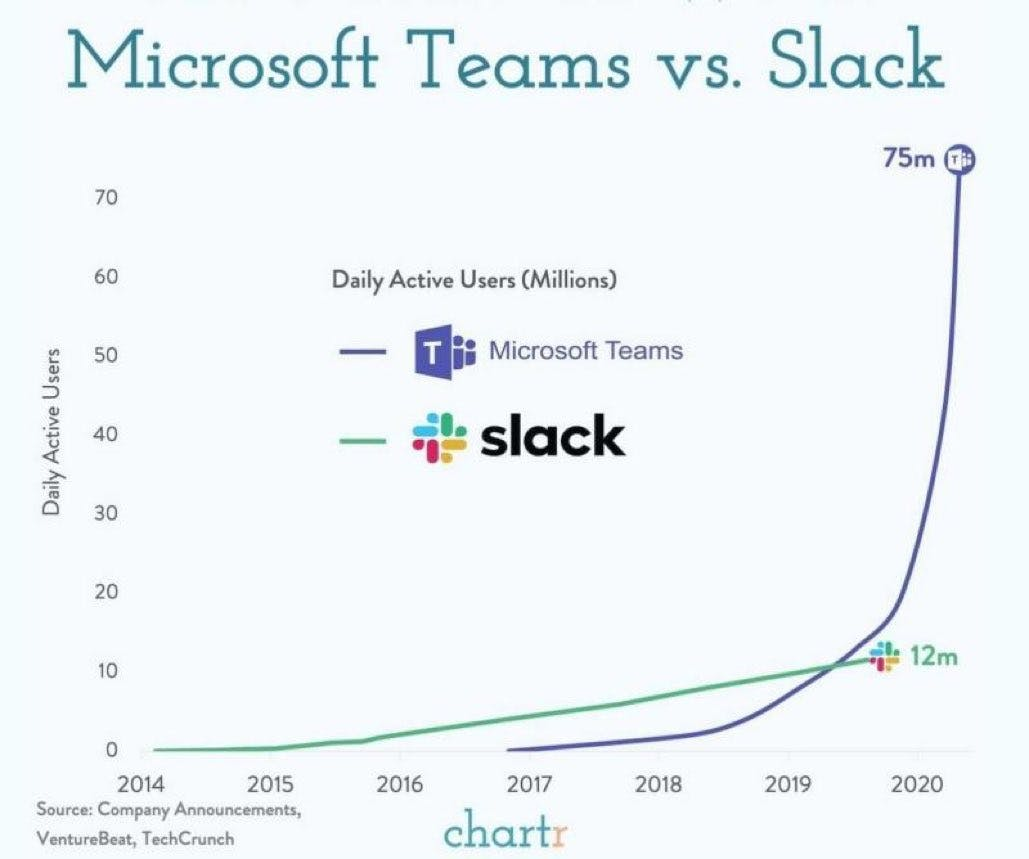 Slack was no match for Microsoft's distribution moat. Microsoft's existing ecosystem of customers/users gives them proprietary distribution for all of their products. Every time Microsoft launches a new product or business – it will instantly get traction, beat out incumbents, and generate substantial revenue instantly.
—
So, what's the proprietary distribution channel for your business?
If you want an edge, you need to reach your customers through a channel your competitors don't have access to. A channel that establishes and maintains trust with customers and prospects.
Luckily, you don't need to build a Microsoft-sized ecosystem to achieve this. There's an easier way…
Build a personal audience.
By having a following, you control your own distribution channel.
Speaking from my own experience, having a personal audience has been an absolute career-changer. It was an integral part of getting my investment firm, Atlasview Equity, up and running.
My content currently generates over 1.5m monthly impressions. Whether I am looking for customers, employees, investors or just looking to expand my network – my audience serves as a proprietary distribution channel to source all the above.
Not to mention, anytime I launch a new business, make a new investment or make any major announcement – it gets amplified reach via my audience.
Just looking back at all of the valuable opportunities and connections that have come inbound to me because of my audience… my only regret is not building a following sooner. It would have saved me a lot of wasted time and pain!
—
Now, I know what you're thinking: "I don't have the time to create compelling content"…
And these days, I don't have the time either. That's why when a former employee of mine, Matt Ross, pitched me his new business solving this problem, I was instantly sold.
Introducing: Deal Bridge Media
Deal Bridge Media interviews me twice a month to extract useful insights from my brain. They then turn those insights into engaging social content for me to review (I ensure it fits my style/tone). They schedule the posts, my audience grows on autopilot and the inbound opportunities keep flowing in.
This means I literally spend no more than ~2 hours a month on content, allowing me to focus on building my businesses.
It's literally a no-brainer.
I was so impressed with the results, that I became an investor in Deal Bridge Media. We are now using learnings from my own experiences building a personal audience to help other founders build theirs.
The demand has been through the roof and the feedback from clients has truly been astounding: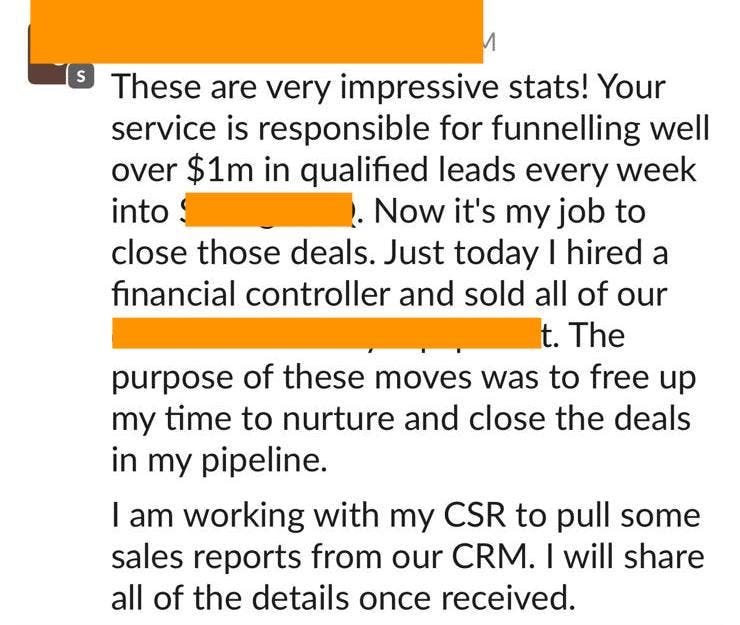 The reason content is so effective is because you're communicating your business's value-prop, philosophies, and successes en masse. The transparency builds trust with people and attracts the ideal prospects to your business. Not to mention customers love hearing directly from the founder. By the time they book a sales call, they already know what you're about and they already want to work with you – it's an easy sale.
What's ironic is that Deal Bridge Media is a testament to why having an audience is so valuable. Matt wanted to work for me after following me on Twitter. We are promoting this business to my audience, and it's now on track to generate over 7 figures in annual revenue.
Control your distribution = Control your results
—
Deal Bridge Media is currently accepting a handful of clients for their next cohort. If you're a founder and looking to build your own proprietary distribution channel, get in touch today (space is limited, so inquiry ASAP).