NOTE: this was a past issue of my weekly newsletter, Timeless Gems. Join my free mailing list so you don't miss out on future issues.
Today's gem is this chart showing the level of return and length of time required to achieve a 100 bagger ($10,000 –> $1,000,000).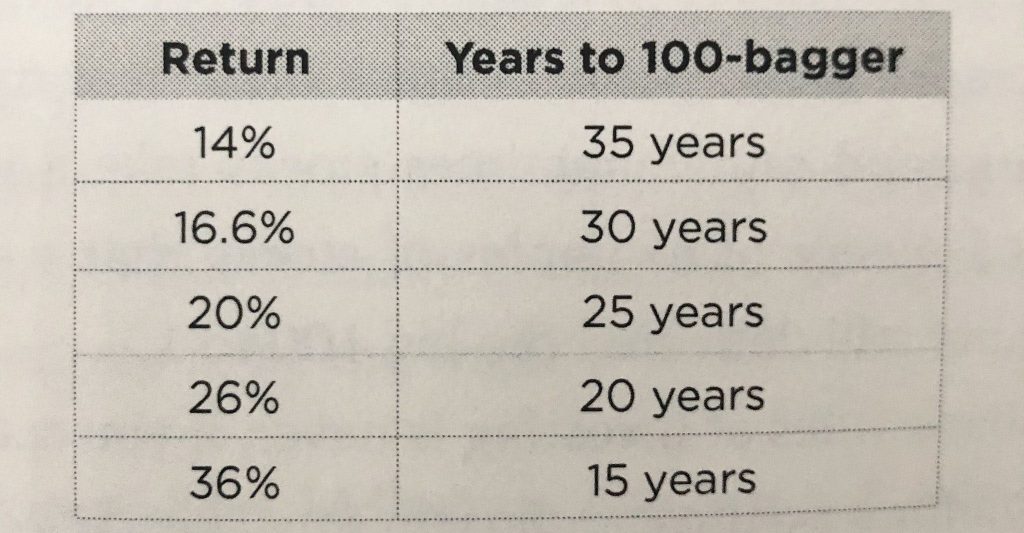 This chart serves as a great reminder that, in investing, time is just as important as annual returns.
One of my favourite examples of a 100-bagger is Constellation Software, arguably the greatest software investor of all time. They went public in 2006 and achieved 100-bagger status 15 years later (almost to the day). This translates to ~36% annual returns for shareholders. Great companies tend to stay great but still require an adequate amount of time in order to deliver extraordinary returns.
What a company can achieve in a single year matters far less than what it can (consistently) achieve over a long period of time. It sounds logical and easy on paper, but this fact gets lost in the day-to-day market activities and quarterly earnings reporting cycles.
This chart is from the 100 Baggers by Chris Mayer, one of the best books I've ever read on investing in stocks. It was the inspiration behind my blog post Angel Investing Approach to Public Markets.