NOTE: this was a past issue of my weekly newsletter, Timeless Gems. Join my free mailing list so you don't miss out on future issues.
---
Sponsored by Tegus​
The modern research platform for leading investors, Tegus' ecosystem combines at-cost, on-demand expert calls with a 55K+ transcript library; quantitative financial workflows to streamline research across company disclosures, management presentations, earnings calls and filings; and 4K+ fully-drivable financial models and company benchmarking data, including every KPI and comparison that matters.
Investors rely on Tegus to move faster, gather deep research, and surface high-quality insights to drive better decisions.
For a limited time, get a free trial of the Tegus platform.
---
Today's gem is this podcast excerpt where Will Thorndike discusses the power of low customer churn: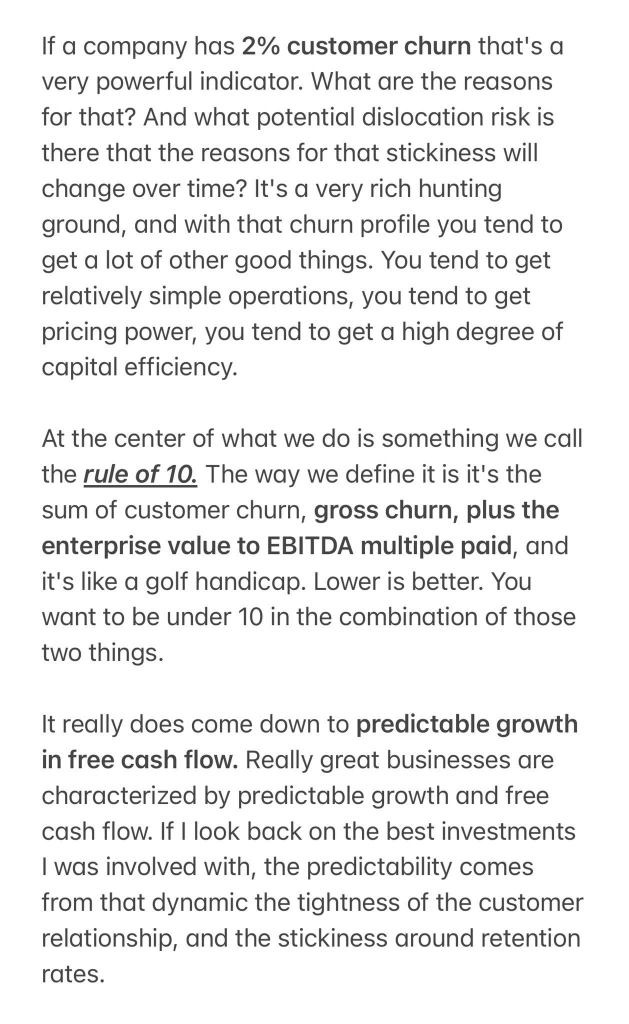 For those unaware, Thorndike is the author of one of my favourite books of all time, The Outsiders. He's also had an impressive career in private equity, he's involved with a lot of impressive companies.
Churn is one of the first things we assess in a business at Atlasview Equity. High churn is a common deal killer for us. Luckily for us, the hunting grounds we play in (vertical software) contain many businesses with low churn. The last business we acquired had annual gross churn rates of less than 2%. They have customers on recurring billing going back 2+ decades!
The rule of 10 is an interesting concept, I like it a lot (much better than the rule of 40). It ties business quality (churn) with entry price (multiple). It's a great metric to help you filter for high-quality business but still maintain discipline on the acquisition price. We've inherently used the "rule of 10" concept at Atlasview without officially measuring it. Low churn + reasonable EBITDA multiple.
You can listen to the Will Thorndike full podcast here, I highly recommend it. Lots of great insights.