NOTE: this was a past issue of my weekly newsletter, Timeless Gems. Join my free mailing list so you don't miss out on future issues.
---
Sponsored by TIKR​
TIKR is the best tool I've ever used to discover and analyze stocks. Their dataset is institutional-grade and the user interference is easy to navigate. I've been a happy customer for 2+ years, their price point is really a no-brainer for even the casual investor.
Get started today with a free account, and if you see the value in upgrading, they're currently running a 20% off winter promo!
---
Today's gem is this NYT article from 1999 on the Patel Motel Cartel. It details the backstory of how Indian families came to dominate the hospitality niche in America (owning over 50% of all US motels).
I particularly like this quick blurb summarizing the phenomenon: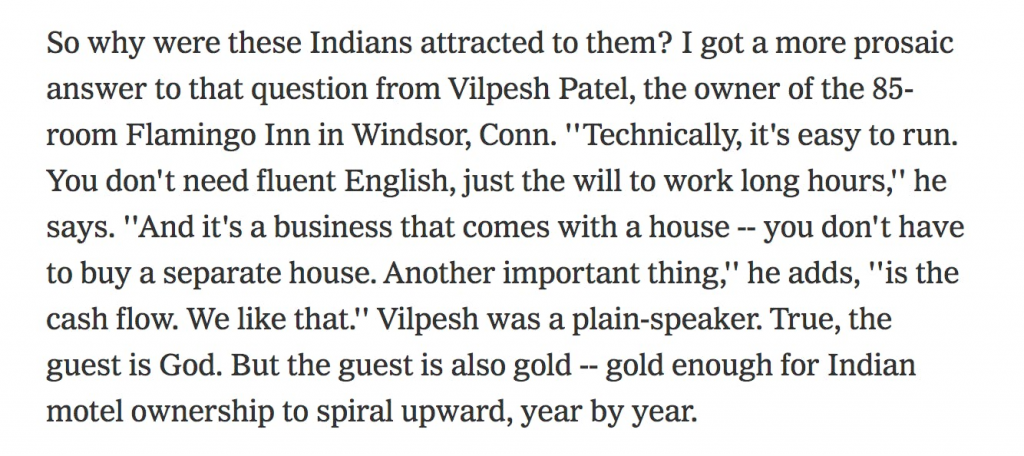 This story is truly the epitome of The American Dream. Immigrant hustle, taking risks, helping fellow family members, rising to the top of an industry, etc. These families focused on an overlooked niche and put in the sweat equity.
​Here is a 30-second clip of Charlie Munger on the Patels and the motel business. Several people in that Twitter thread had mentioned that the book The Dhandho Investor has some more context if you're interested in reading more. I've never read the book, but it's on my list.