Friday Gems is a weekly newsletter for investors, capital allocators, and entrepreneurs. As a full-time investor growing my own private equity firm, Atlasview Equity, I spend a lot of time analyzing investment opportunities, studying historic case studies, and reading all things that spark my curiosity. Every time I come across interesting content (articles, letters, books, videos, infographics) with valuable wisdom, I save it. Friday Gems is a curation of all the timeless content that I find, shared along with my insights.
Unlike most investment newsletters, which focus on breaking news and the latest events, Friday Gems is designed to stay relevant to its audience beyond the time that it is published.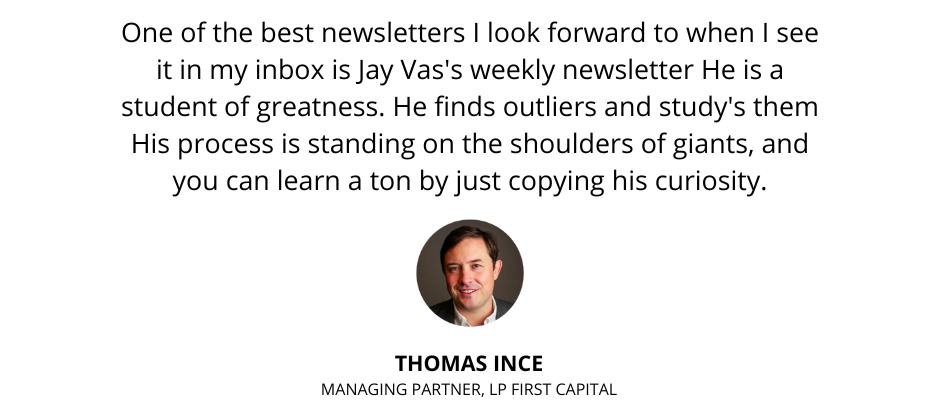 Audience and Reach:
Reach: 2,500+ and growing by 150+ subscribers month-over-month.
Audience: Investors (individual & institutional), Capital Allocators & Entrepreneurs.
Average open rate: 60%
Average sponsorship views: 1,500+
Average sponsorship clicks: 50-150
Average yearly web visitors to the blog version of the newsletter: 36,000+
Previous sponsors: TIKR, Tegus, LMM Deals, Chartr, Alts.co, The Investor's Podcast Network, and more.
Cost: Please inquire here.
What You Get As A Sponsor:
You get one text-only advertisement in my Friday Gems newsletter when you purchase a sponsorship.
Your ad will be placed at the very top of the issue, before the newsletter content. It will be 3-4 sentences with a hyperlinked call-to-action.
The newsletter is published around 4pm EST every Friday afternoon, and you can expect 50-150 visitors to your website, depending on your product/offer.
Your sponsorship will also be permanently displayed as each issue is published on my website, which generates 36,000 visitors per year as I promote it on social media.
NOTE: if you'd like to reserve a sponsorship slot, I am usually booked 2-3 months in advance, so please inquire ASAP.