The average landing page conversion rate across all industries is 4.02%.
I want you to do way better than that.
So, let's bench that benchmark.
Your landing page may already receive a good amount of traffic.
But traffic is worthless if you don't see conversions.
It's like buying thousands of Wonka Bars and never getting a golden ticket.
In the case of your landing pages, however, there are ways to up your chances of winning.
Landing page optimization is essential if you want to convert leads.
This checklist is packed with the most up-to-date practices for landing pages.
Take a look:
Design
86% of marketing and digital professionals believe design-driven companies outperform others.
Thus, a landing page designed with conversions in mind will perform better.
1. Optimal Page Length
Most experts argue the case for short-form landing pages.
Yet, Crazy Egg saw 363% more conversions with a long-form landing page.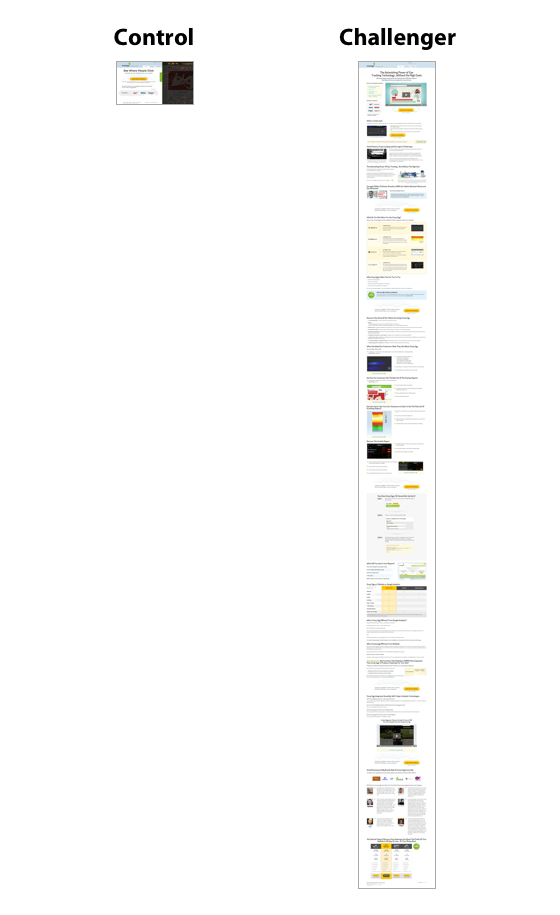 The answer: Know which works better for your brand.
2. Sparing Use of Images and Video
Yes, you should have a hero image or explainer video, as in this landing page from QuickBooks: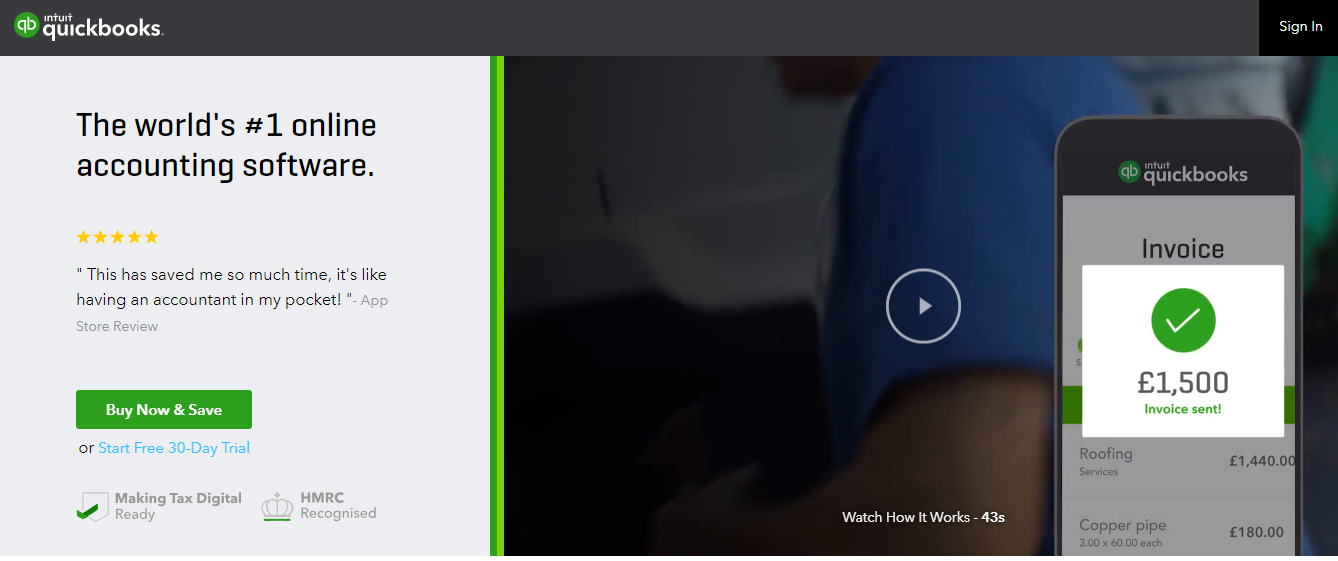 But, too much media is distracting and will make your page load slower than a sleepy sloth.
3. High Contrast Colours
High contrast colours make the most important elements pop.
In the following example, your eye is immediately drawn to the contrasting, yellow CTA button: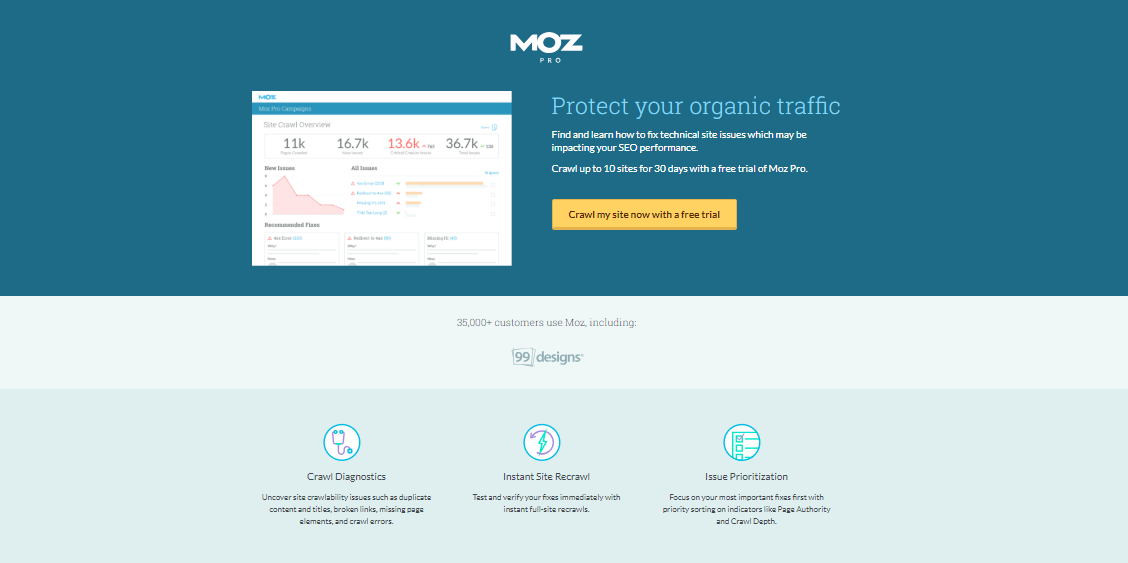 4. Use of White Space
Your key message or objective stands out against a distraction-free background.
As in this example from design platform, Marvel: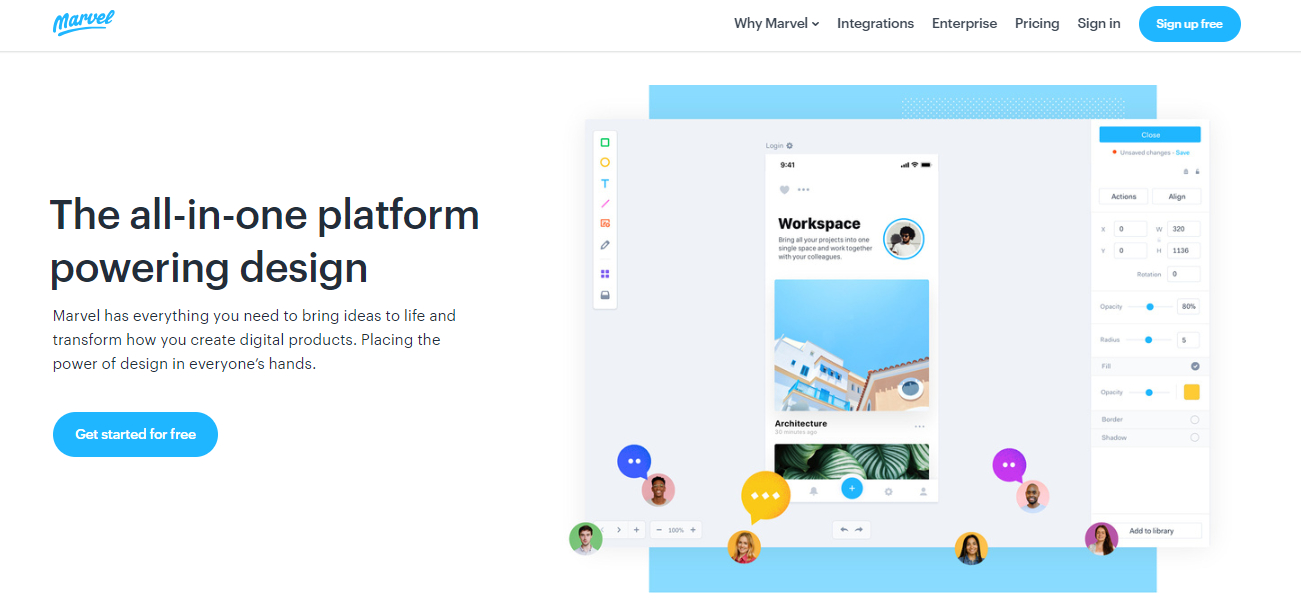 5. On-brand
Your branding must be consistent across every piece of marketing material you produce.
This makes your brand instantly recognizable and your landing page instantly familiar.
Mailchimp, for example, uses unique illustrations across all channels.
From their social media pages: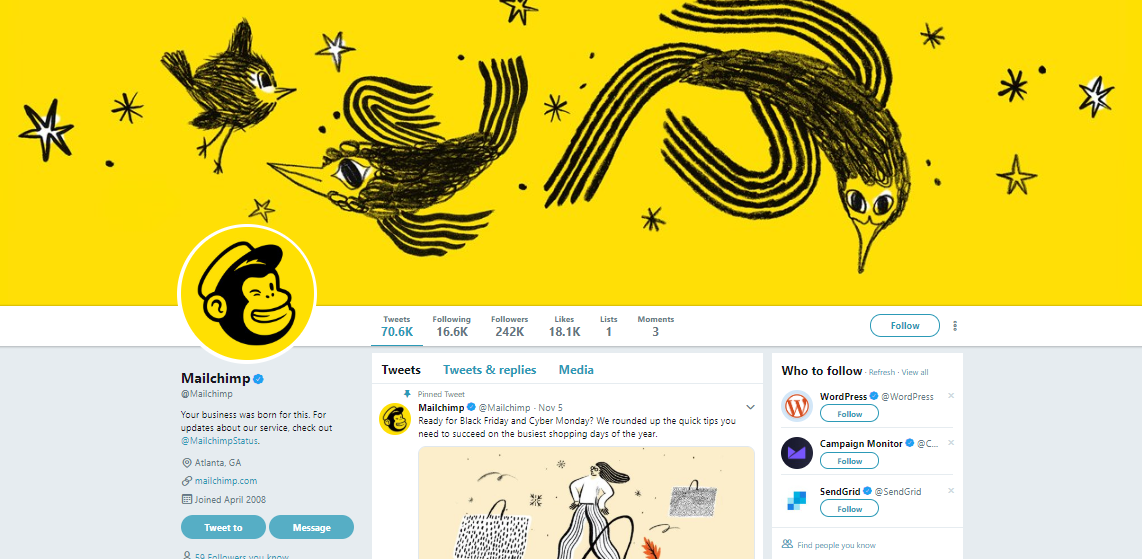 To their landing pages: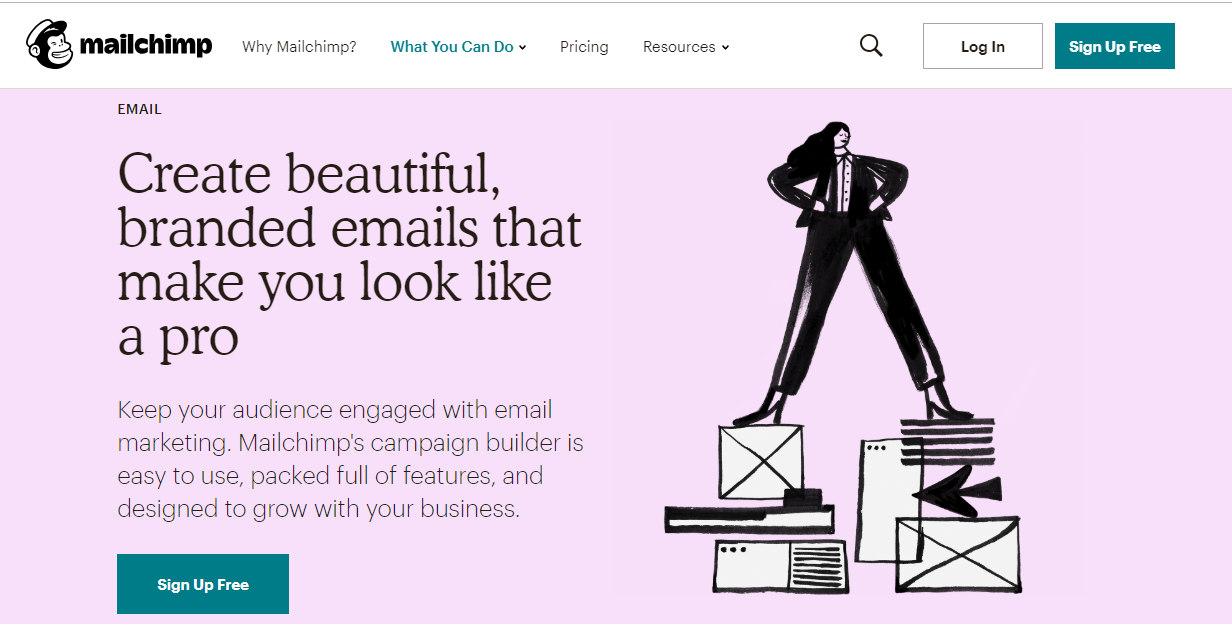 6. Subtle Design
Subtle design means that visitors focus on one thing…
Your call to action.
You know that Apple reigns supreme when it comes to minimalism.
This includes their landing pages: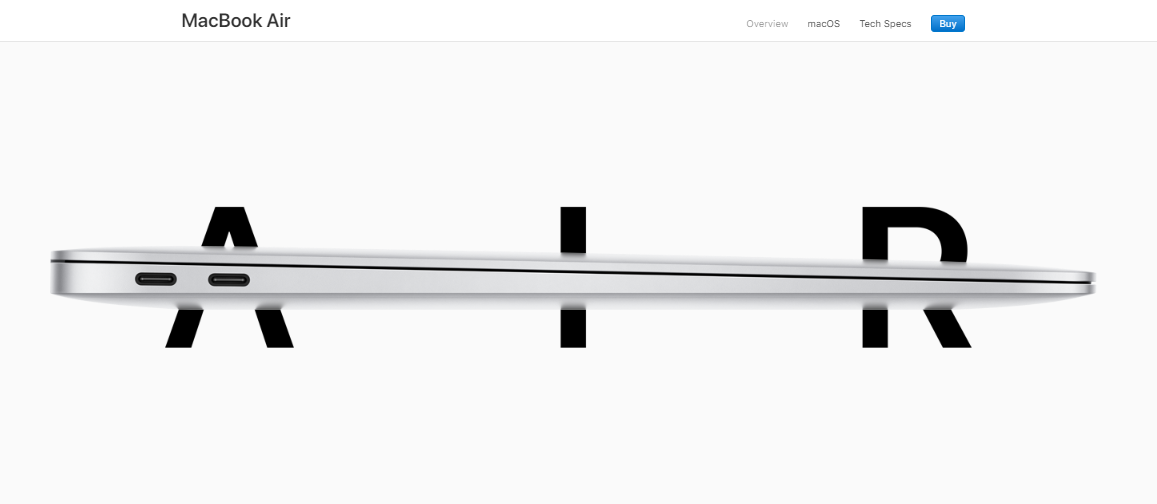 7. Oversized Buttons
Don't be shy, now…
The main purpose of your landing page is to generate leads, so why not emphasize your CTA button?
Look at how both the headline and button stand out here: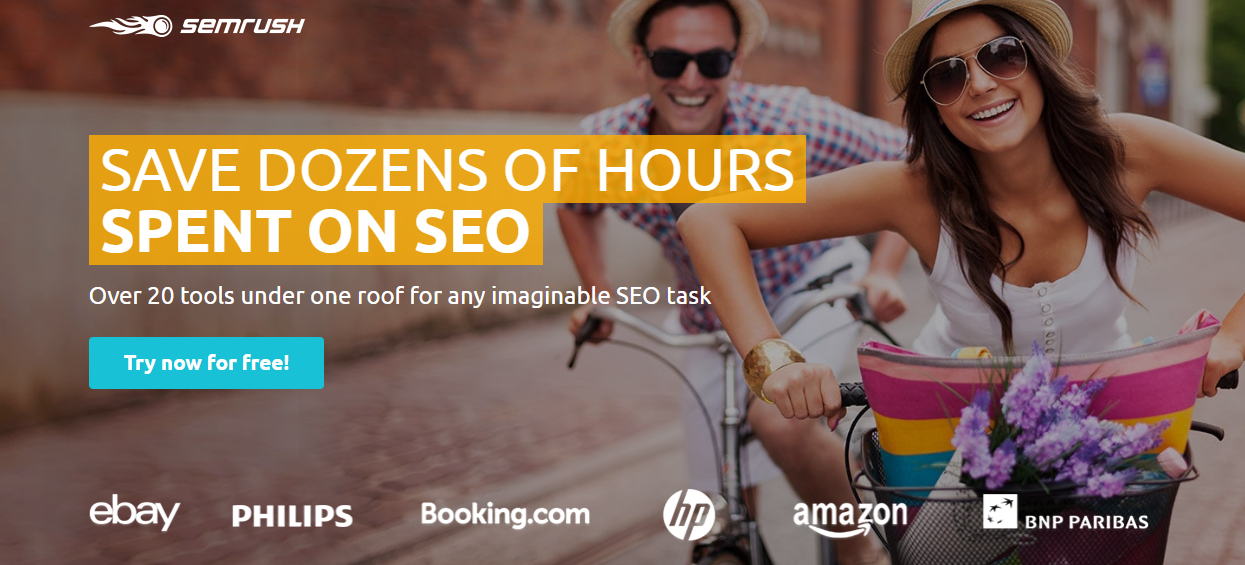 8. Optimized Layout
Studies show that there are two main patterns people follow when scanning content.
These are the F-shaped pattern and Z-shaped pattern.
Here you can see how HubSpot's landing page design follows a Z shape: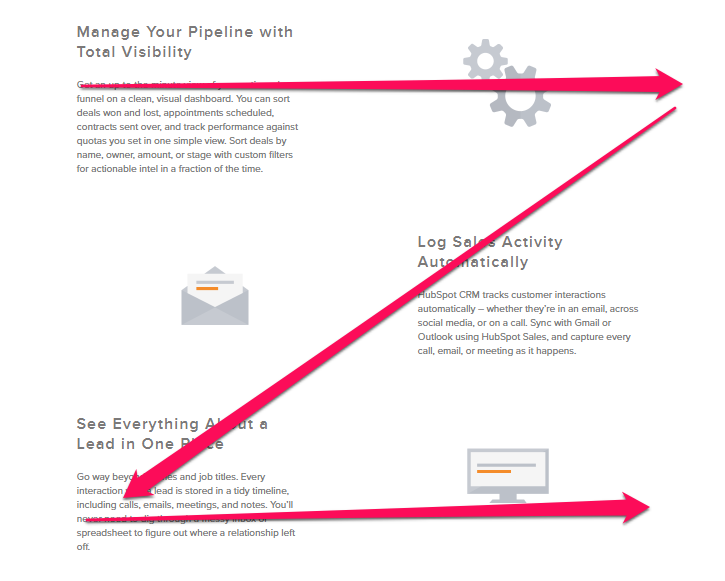 9. Easy to Read
Your headline, copy and form field fonts need to be large and in charge.
Could grandma read your landing page without her glasses on?
Take a look at how striking and easy to digest the copy is in this example: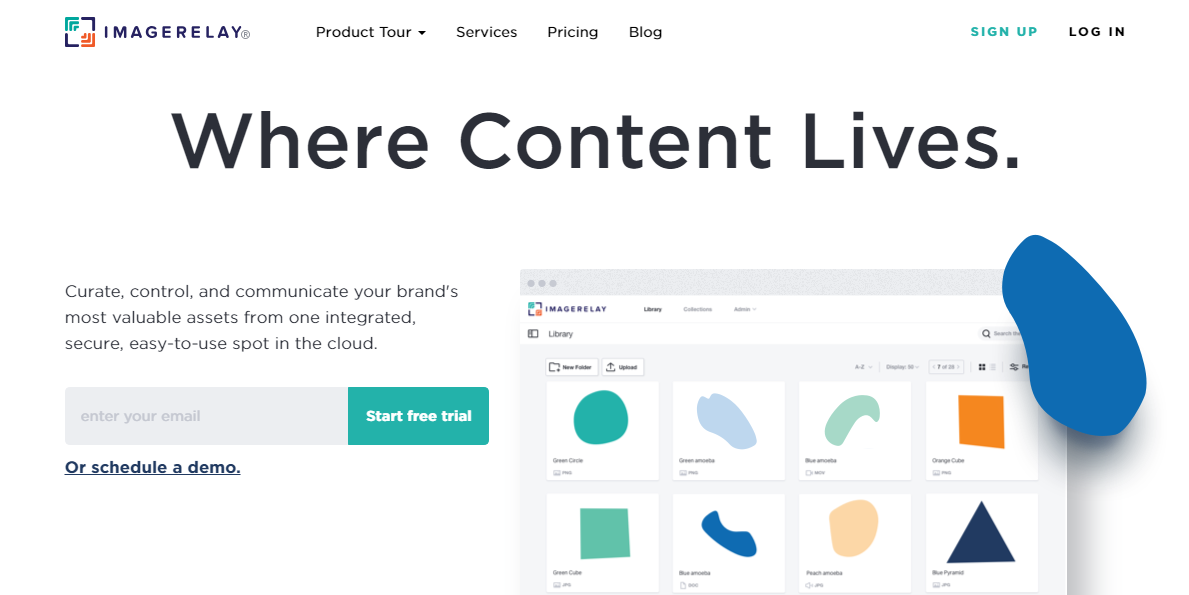 10. Directional Cues
There's no harm in pointing your audience in the right direction.
Look at how Brian Dean does it with a subtle arrow: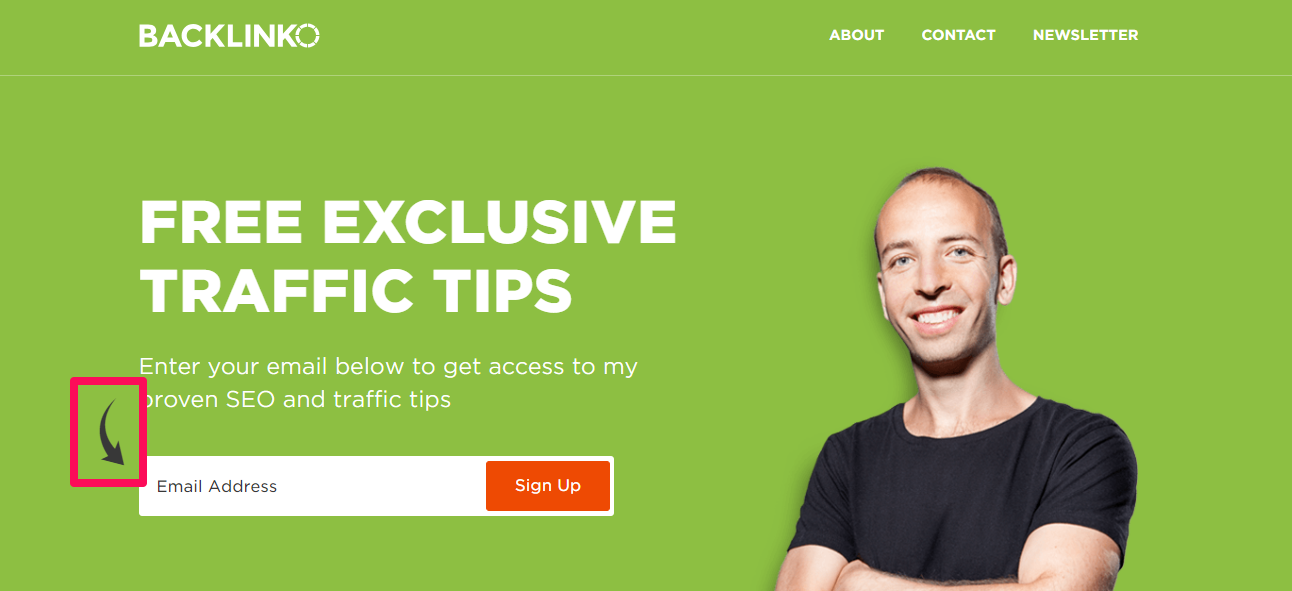 SEO
Good SEO attracts more traffic than an LA street at rush hour.
One reason being, 70-80% of searchers only focus on organic results.
Essentially, SEO will bring visitors to your landing page at just the right time i.e. when they are searching for something.
11. Permalink
A permalink influences how search engines index your page and how visitors view it.
The optimal format is yourdomain.com/your-landing-page.
Here's how your link structure should appear:

12. Strategically-Placed Keywords
82% of domains that rank for a given keyword have that keyword in their body of text.
My number one tip for landing page keywords is to focus on one set that matches searcher intent.
Freelancer provides a good example of this in action: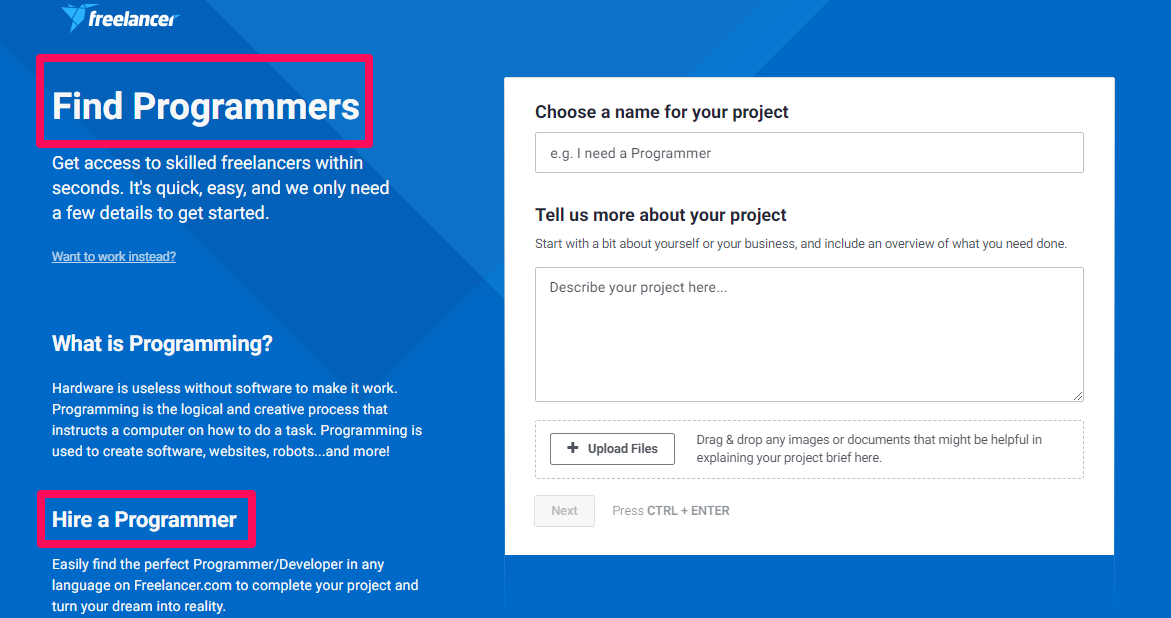 The searcher wants to employ a freelance programmer…
The strategically-placed keywords in the headline, "Find Programmers" and sub-head, "Hire a Programmer", reflect that intent.
13. LSI Keywords
The only stuffing I like to see is on the dinner table.
Keyword stuffing = bad.
LSI keywords = good.
Related keywords and synonyms are better for SEO.
See how Shane Barker uses a bunch of related terms here: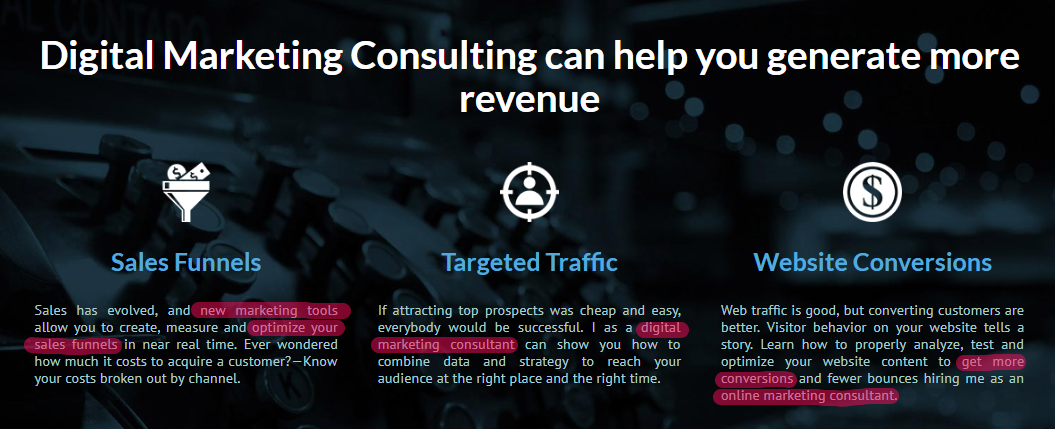 14. Backlinks
Links are still one of the top SEO ranking factors: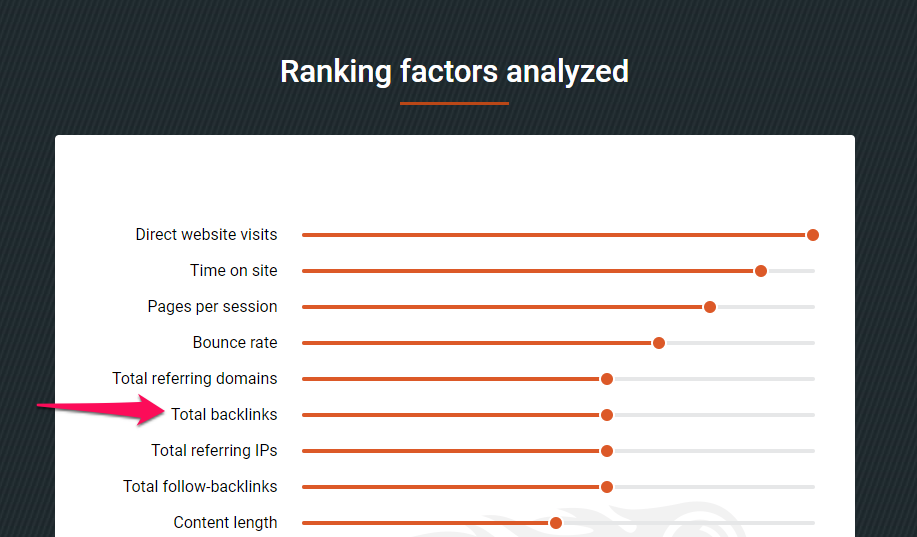 You need quality links pointing to your landing page in particular because that's where visitors are most likely to convert.
15. Alt Text
Alt text must contain unique keywords that describe or analyze each image.
This increases the likelihood that your landing page images will appear in a Google search: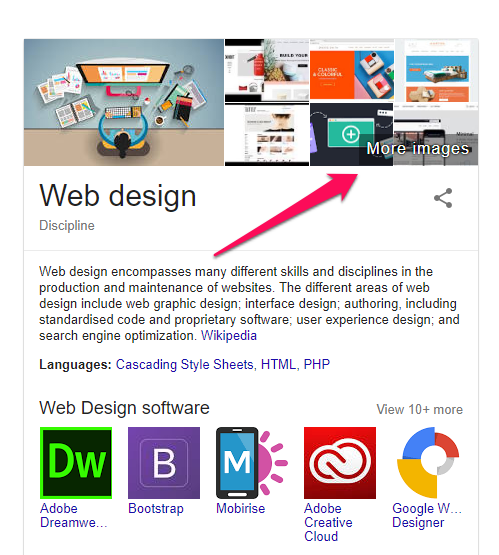 16. Header Tags
Header tags should appear throughout your landing page.
This directs Google to the most important keywords for that page.
Language learning platform Chatterbug uses several headers with keywords on their landing page, such as "Language Learning", "Self-Study" and "Live Lessons":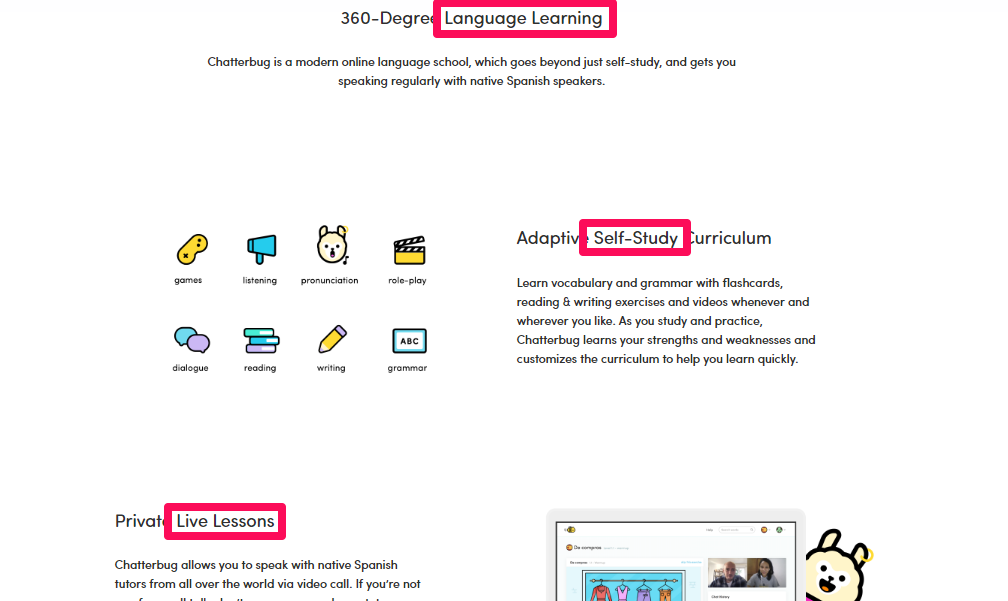 17. Metadata
Metadata is not only good for SEO, but also for persuading your audience to click.
Hence, your metadata has to contain your keyword and a call to action, like so:

18. Schema Markup
"When you use structured data to mark up content, you help Google better understand its context for display in Search, and you achieve better distribution of your content to users from Search."
Examples of such content are reviews, video or local place listings, which show up in rich snippets.

19. Content Above the Fold
Due to their page layout algorithm update, Google gives more weight to content above the fold.
Slack manages to get a lot of content above the fold via text you can scroll through: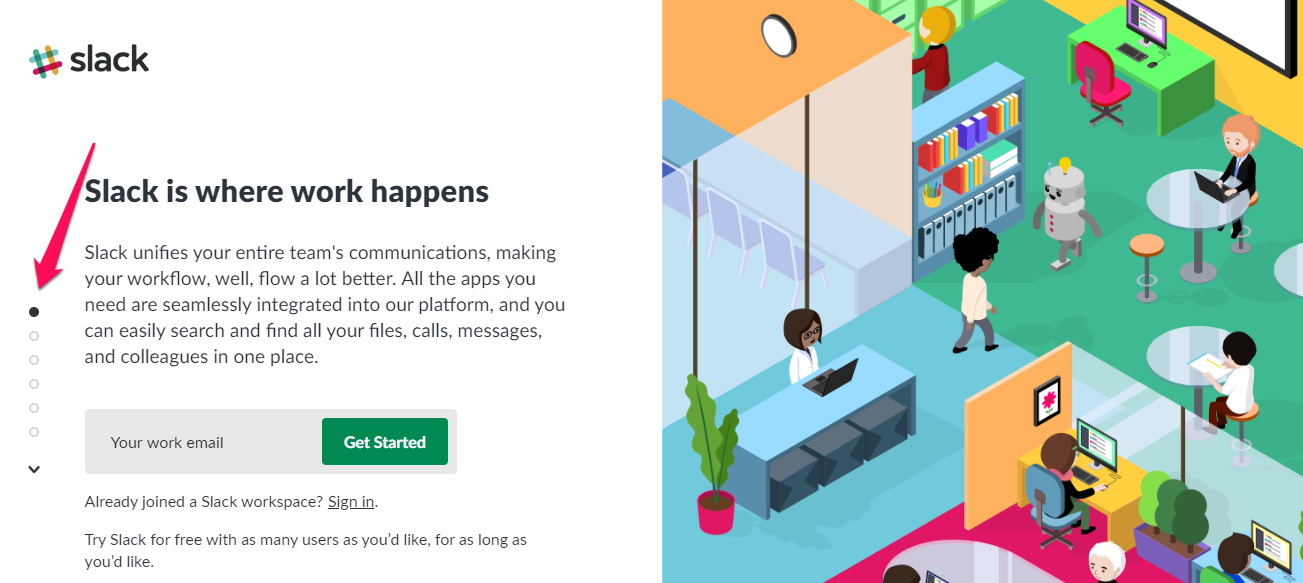 20. Page Left Up After Campaign
If you work on the authority of your landing page then delete it, you lose all of that good SEO juice.
Some companies simply update their landing pages year on year.
British retailer Curry's leave their Black Friday landing page up all year and simply refresh it before the big day comes around: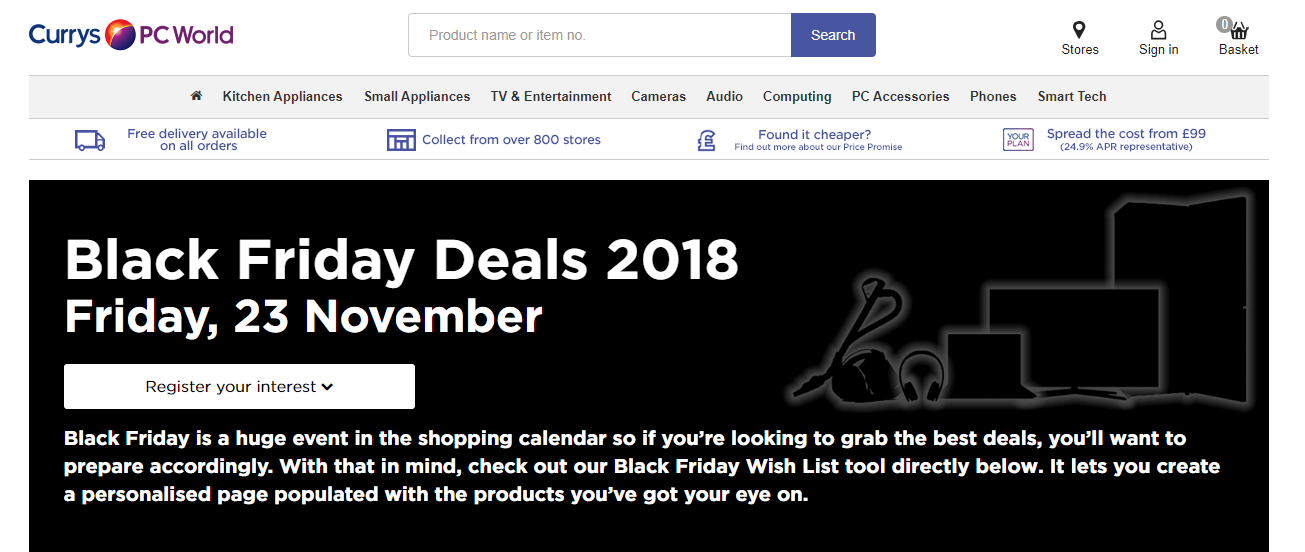 Conversion Rate Optimization (CRO)
61% of marketers say that generating traffic and leads is their biggest challenge.
That's where CRO comes in.
It will undoubtedly help you convert more of your landing page visitors into leads.
21. Just One CTA
Our attention spans are almost gold-fish-level nowadays.
That's likely why having just one link on a landing page means 13.5% more conversions.
So, you need to have a single, focused message and thus one CTA.
WordPress does a pretty nice job of this: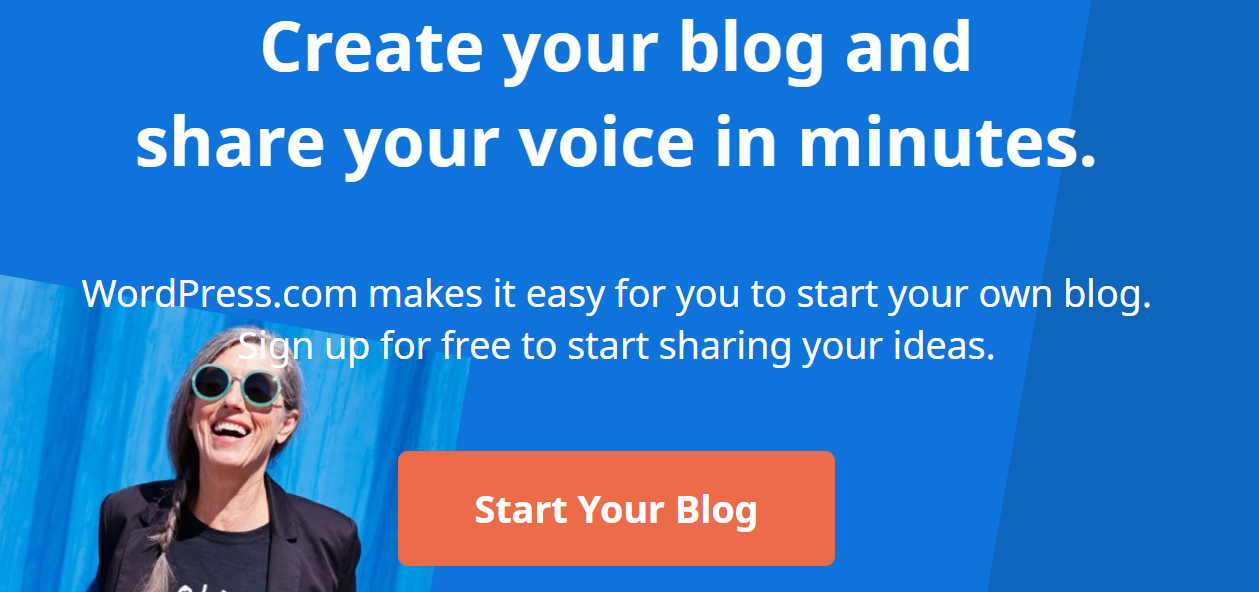 The CTA, "Start Your Blog", is simple and clear.
22. CTA Above the Fold
Along with content, your CTA needs to be in prime position.
People have seen enough landing pages by now to know where the button is, i.e. above the fold.
Hence, they know where to go when they're ready to make a move.
See how Autopilot has their CTA in the best spot: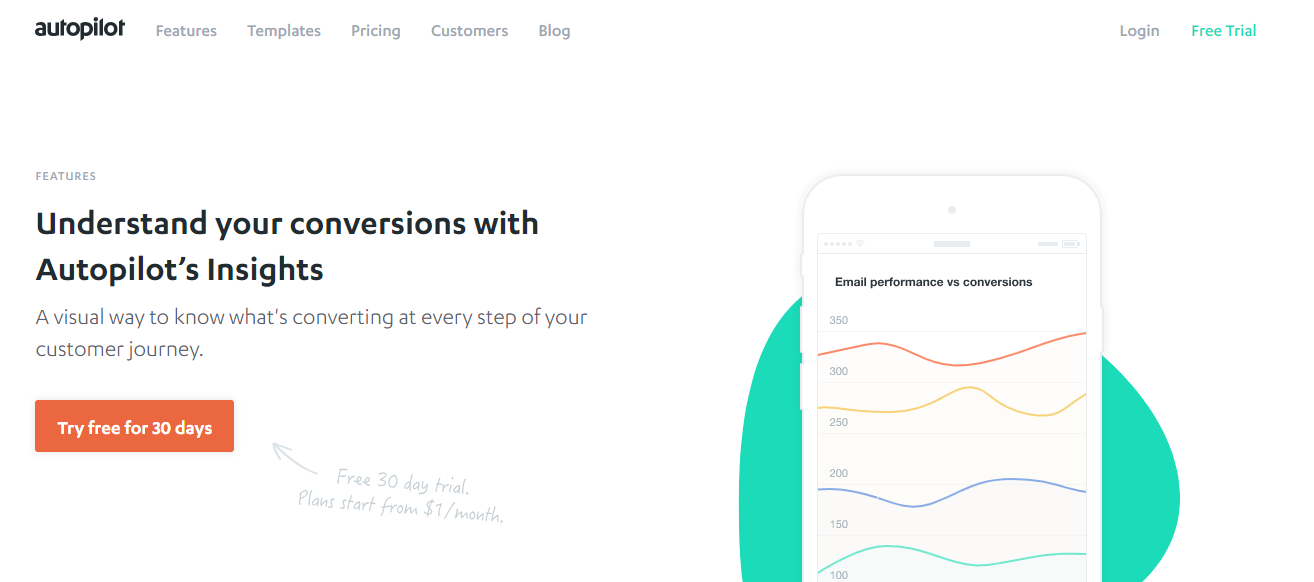 23. A/B Tested
You need to know how the changes you make to your landing page affect conversions.
By A/B testing their mobile landing page, an online wedding shoe store got three times more conversions and reduced their bounce rate by 50%: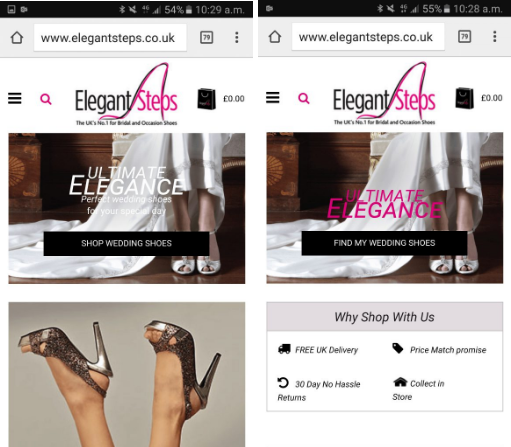 24. Lead Magnet
People hold onto their information nowadays as though every brand is some kind of data thief, ready to bombard their inboxes with spam.
That's why there has to be an incentive for people to sign up.
Adobe, for instance, offers ten free stock photos: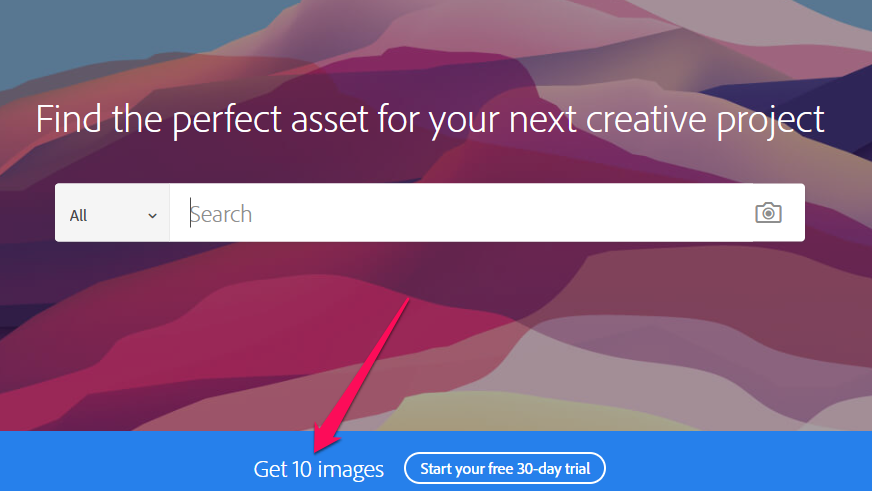 25. Social Proof
Consumers trust other consumers.
You need to show that other people like what your company does.
LeadQuizzes proudly displays the publications they've been featured in:

26. Segments
Do you have different landing pages for different segments of your audience?
Nine out of ten marketers say customers expect a personalized experience.
Airbnb segment visitors according to location: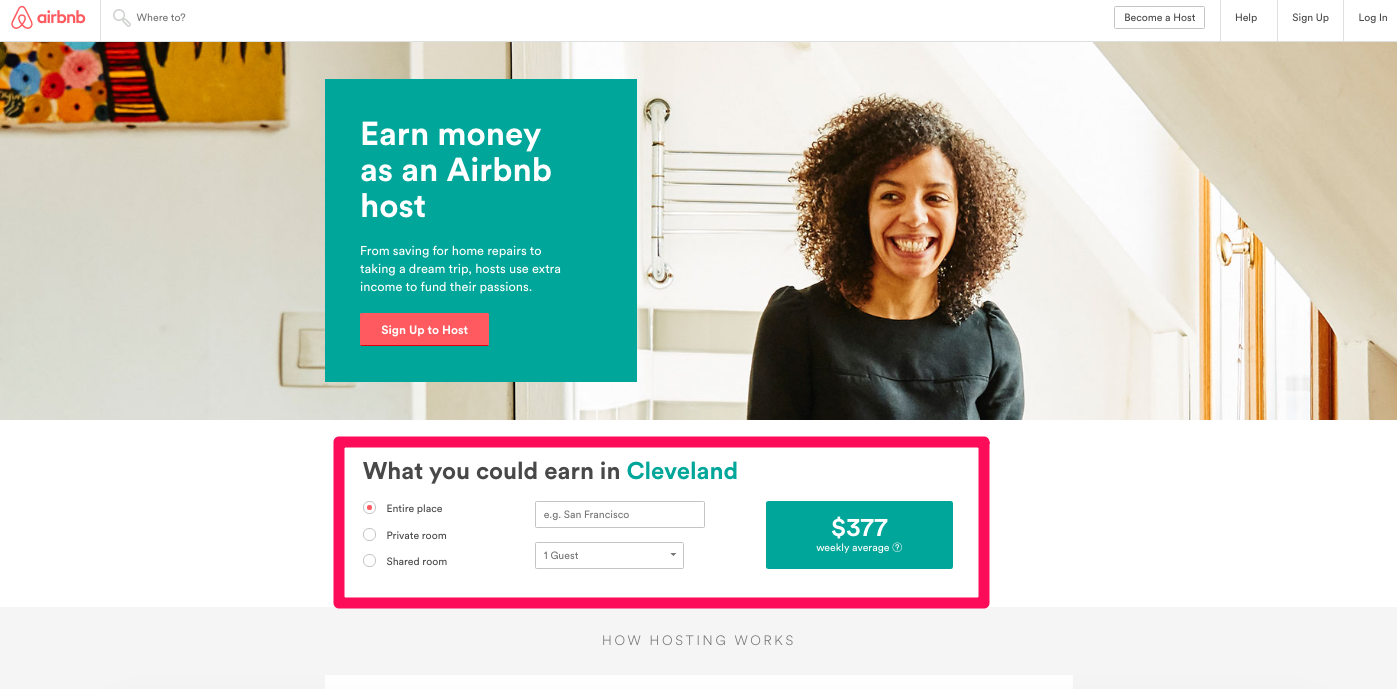 27. Analytics
This is how you track conversions over time.
In Google Analytics, head to Behaviour > Site Content > Landing Pages to monitor your performance: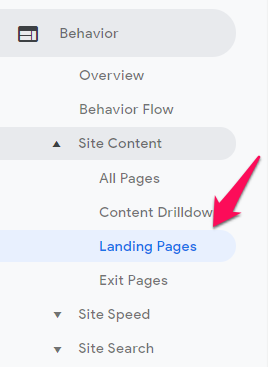 28. Ad Match
I have spent many years honing my Google Ads strategies, so I know it's not easy.
One thing you must be sure of is that the aesthetic and overall message of your ad matches up with your landing page.
This assures visitors that they are on the correct page and so prevents them from bouncing.
It also proves the relevancy of your page to Google, which means lower PPC costs.
Take a look at the copy in this PPC ad from ShareThis:

It matches the CTA and message of their landing page: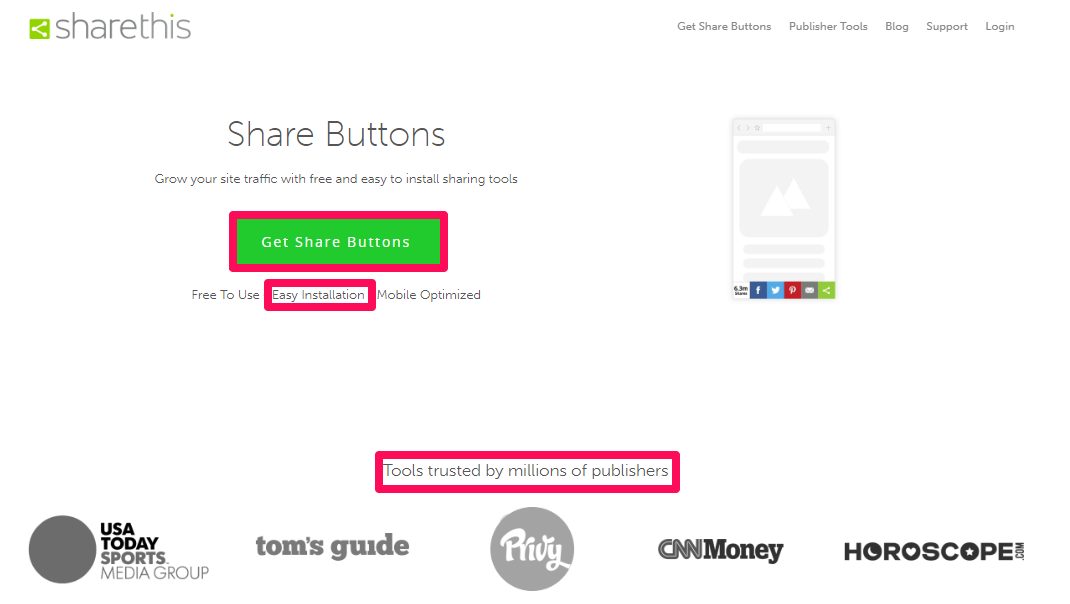 29. Social Logins
Let's face it, everyone wants to take the easy route.
So, quick social logins may increase signups.
As in this example: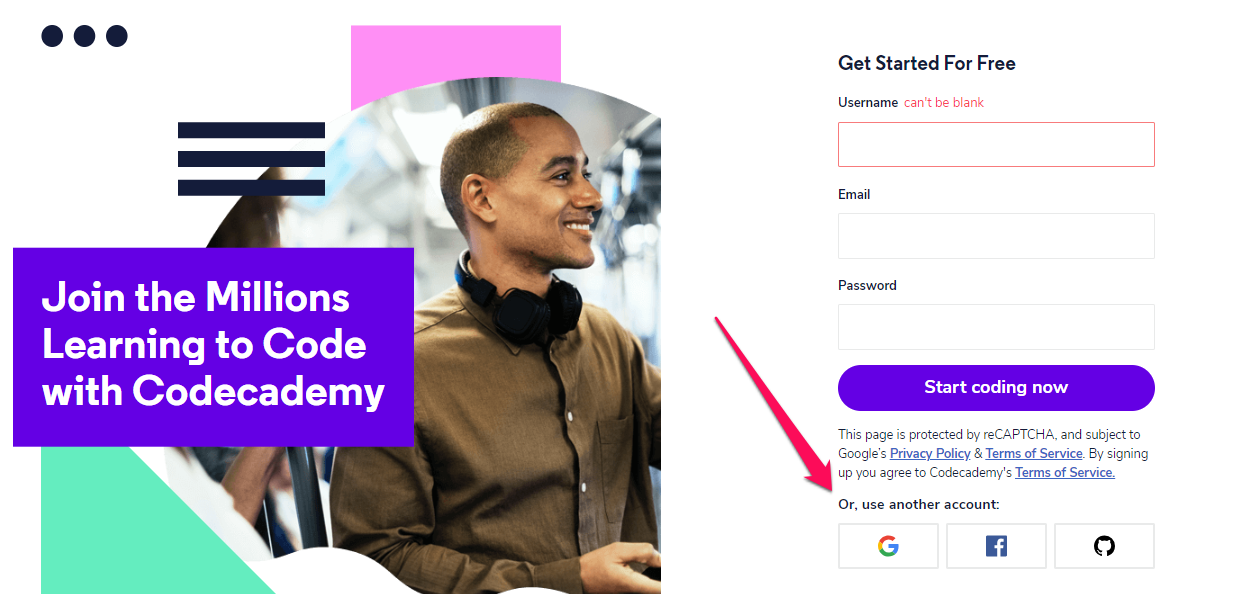 Copy
Don't underestimate the value of landing page copy.
UX designer Jenny Shen was able to achieve an 11.5% conversion rate in just one week and with no paid ads thanks to "clear and relevant copy".
Hence, strong copy can help you soar above the 4.02% average conversion rate for landing pages.
30. Headline Addresses Main Customer Pain Point
Your copy should get to the unique value proposition (UVP) as quickly as possible.
Wannabe Uber drivers are clearly looking for a flexible way to earn money.
So, it makes sense for the headline on their landing page to read, "Make money on your schedule":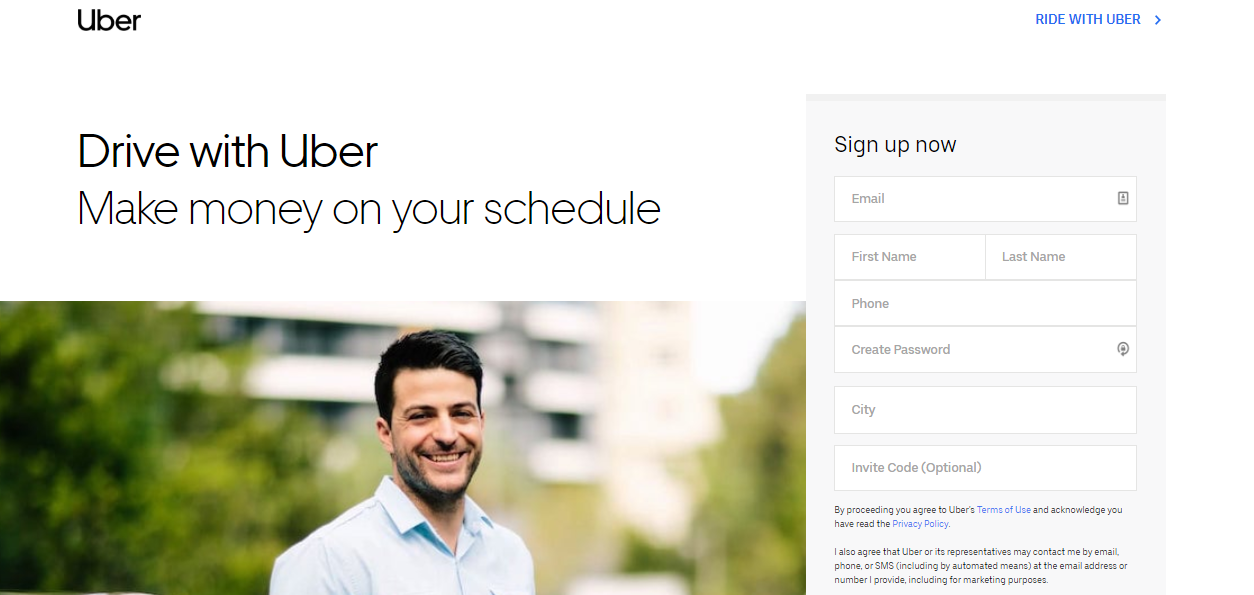 31. Persuasive Subhead
As headlines are concise, there isn't always room to get your point across.
Your subhead should expand on your UVP and seal the deal.
Take a look at this example: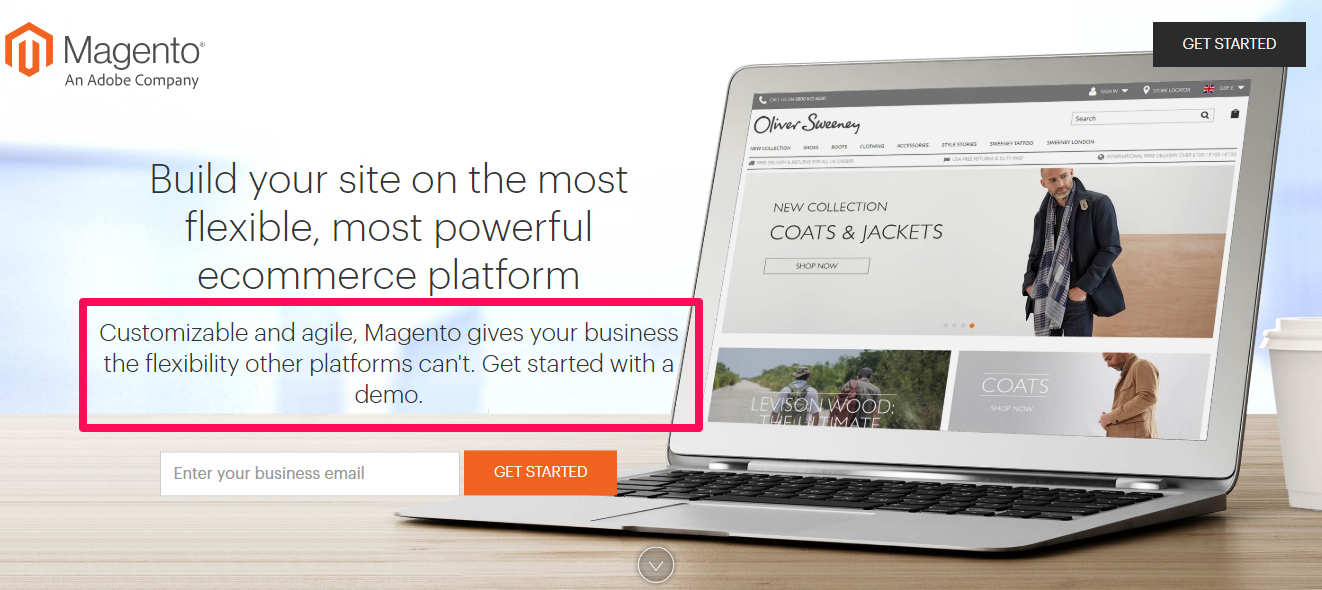 32. Focused on Value
Nobody wants to hear you drone on and on about the specific features of your tech product.
That would be a real snooze fest.
What potential customers really want to see is how your company can benefit them.
So, make sure your copy focuses on value, not features.
In the following example, Google doesn't get technical about creating a website, they simply describe the benefits: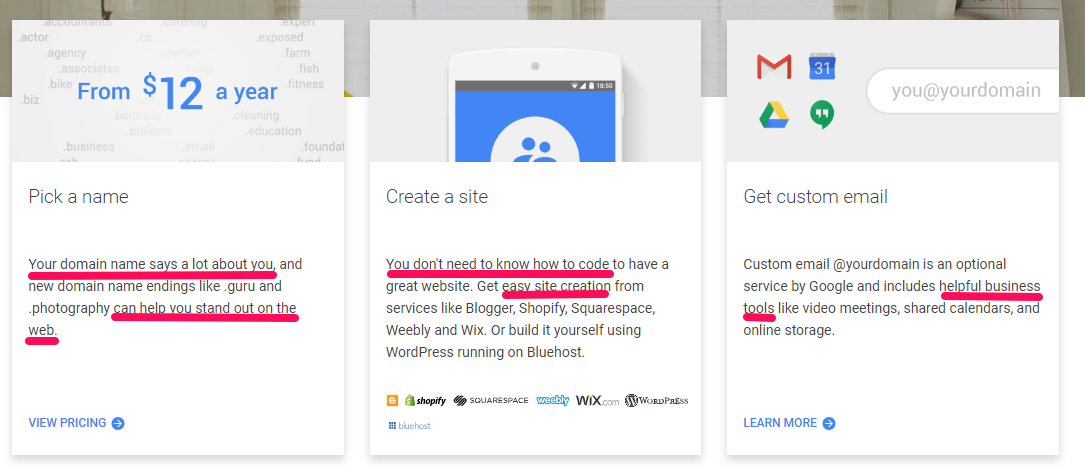 33. Natural Language
Your copy shouldn't read like it was written by C-3PO.
It needs to sound human and relatable.
Basecamp are goals when it comes to natural language: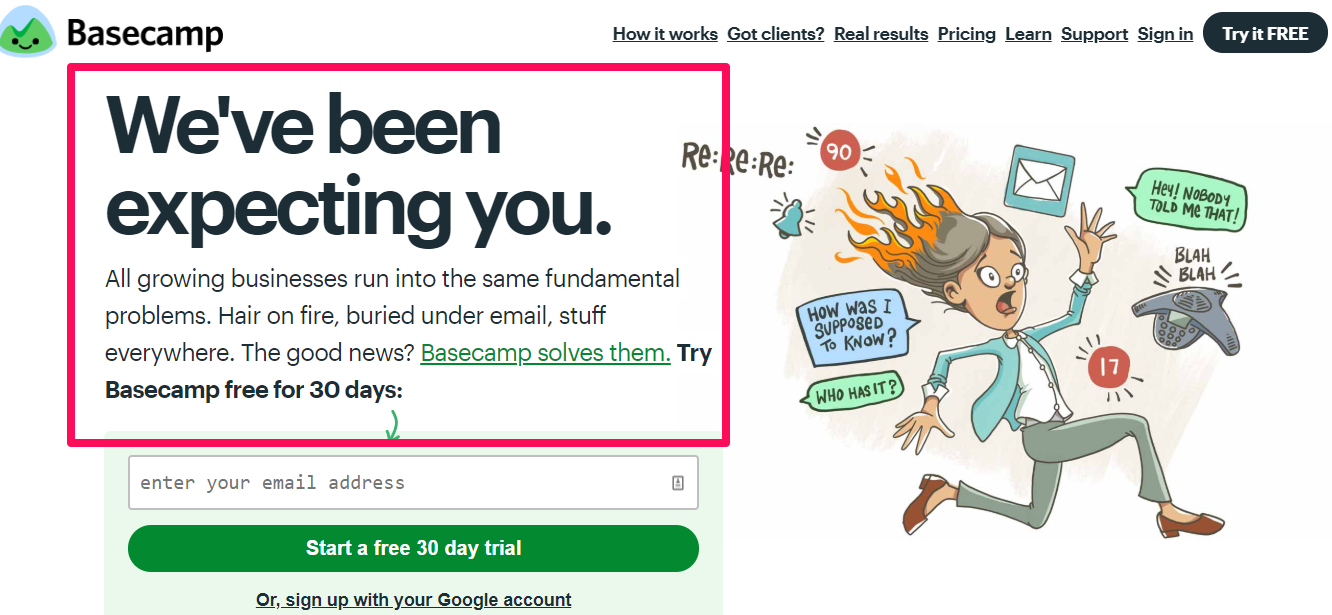 34. Simplified Copy
Get to the point.
If your landing page contains fluff, get rid of it.
Many use bullet points to outline the benefits of their offer, while remaining succinct.
Here's an example from Shopify: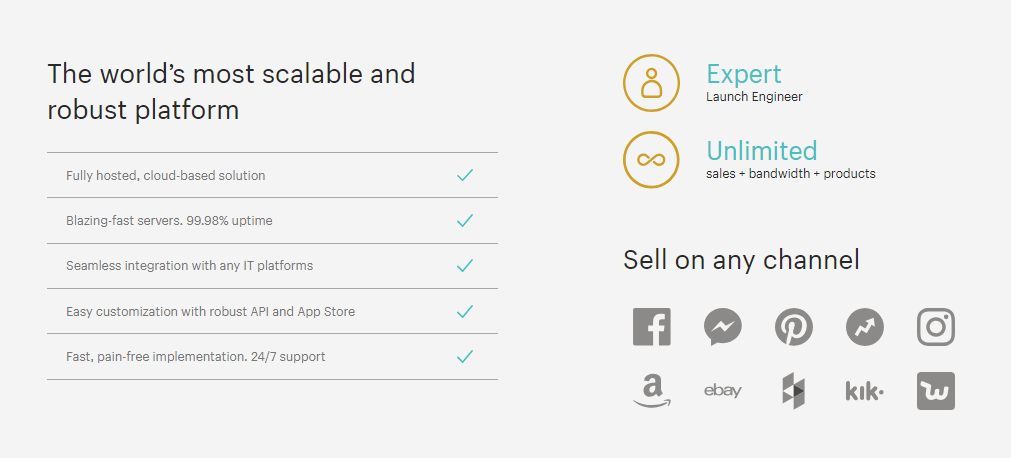 35. Supported with Data
Leave out the gimmicks.
If you say your product is "awesome!" or that you're some sort of "ninja" nobody will believe you.
Claims must be supported with real evidence, like in this example from BigCommerce:

36. Compelling Copy
Modern copywriting is all about emotion and telling a story.
And CTAs such as "click here" or "register now" are outdated.
Live Reports tells a highly relatable story with their copy and follow it up with a totally unique CTA in "Show me my dashboard":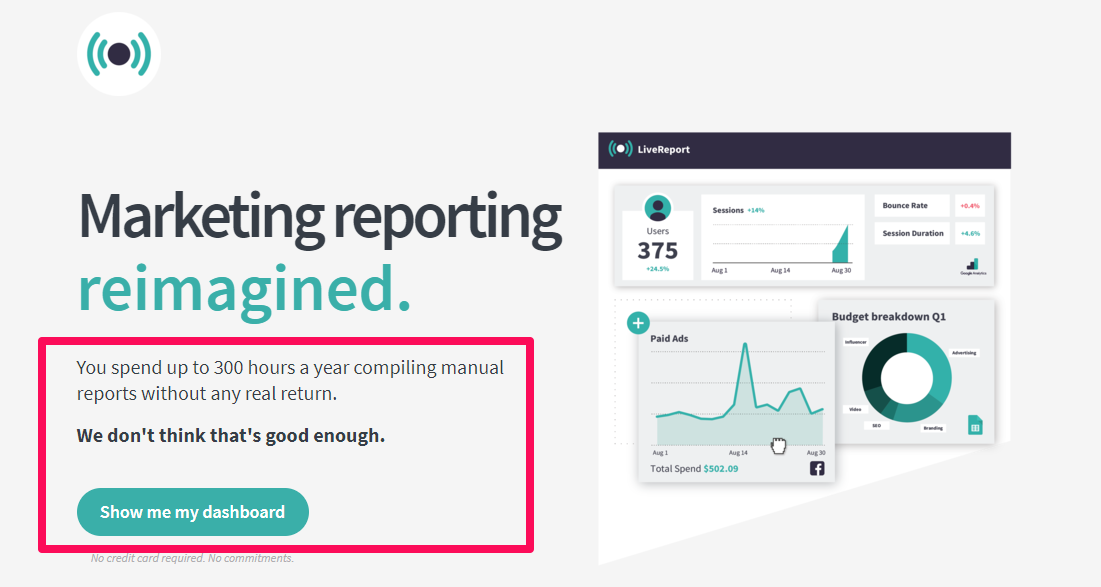 UX
User experience should be a fundamental consideration for any landing page.
Goran Paunovic at Forbes writes,
"When customers come to your site, you have only seconds to influence them; investing in UX optimization is necessary to quickly gain trust, brand recognition and ensure user retention."
37. Mobile-Optimized
Going into 2019, it's vital that your pages are optimized for mobile.
You know Google likes to put its thing down, flip it and reverse it, Missy-Elliot-style.
That's what happened when they introduced mobile-first indexing.
So, your landing page must be designed for easy mobile use.
Trello goes the extra mile with its sticky header and large, easy-to-tap CTA buttons: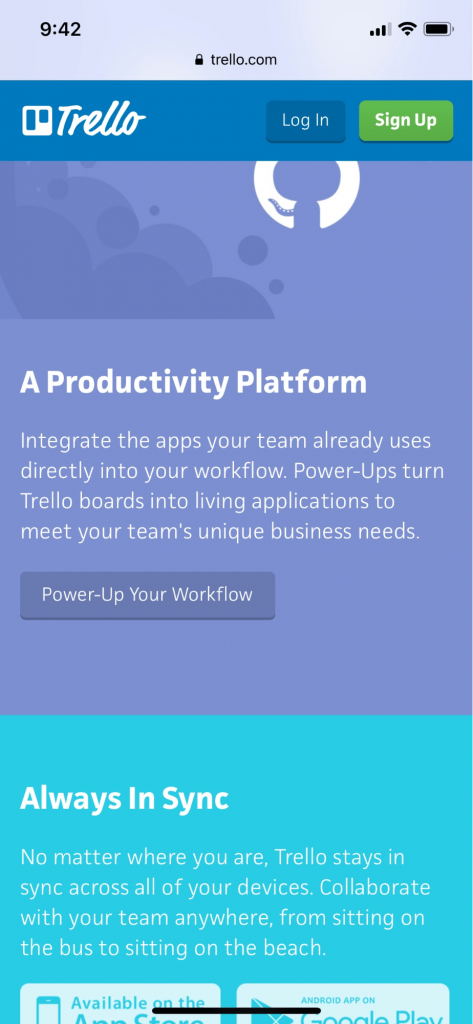 38. Speedy Load-Time
Remember how I talked about our goldfish-like attention spans…
Probably not, because, well, you have the attention span of a goldfish.
Joking aside, Google reckons the optimal mobile landing page load-time is just three seconds.
If it takes any longer, people will bounce.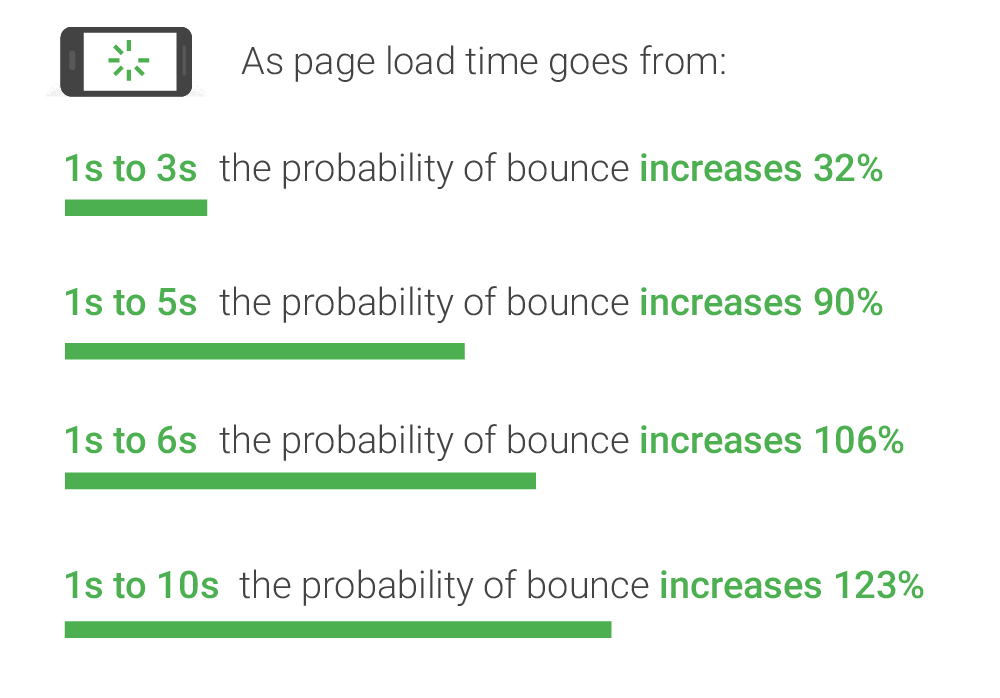 39. Form Fields
You should only have two to three form fields, max.
Users want this part to be quick and easy.
Neil Patel uses just three simple fields: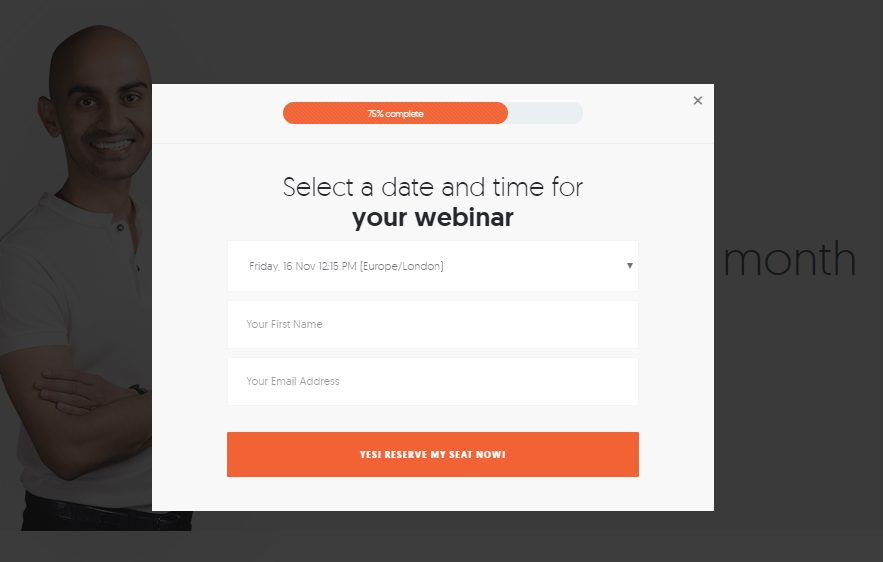 40. Privacy Guarantee
People need to know that you won't share their data.
In this example, Oracle clearly shares their T&C's and privacy policy: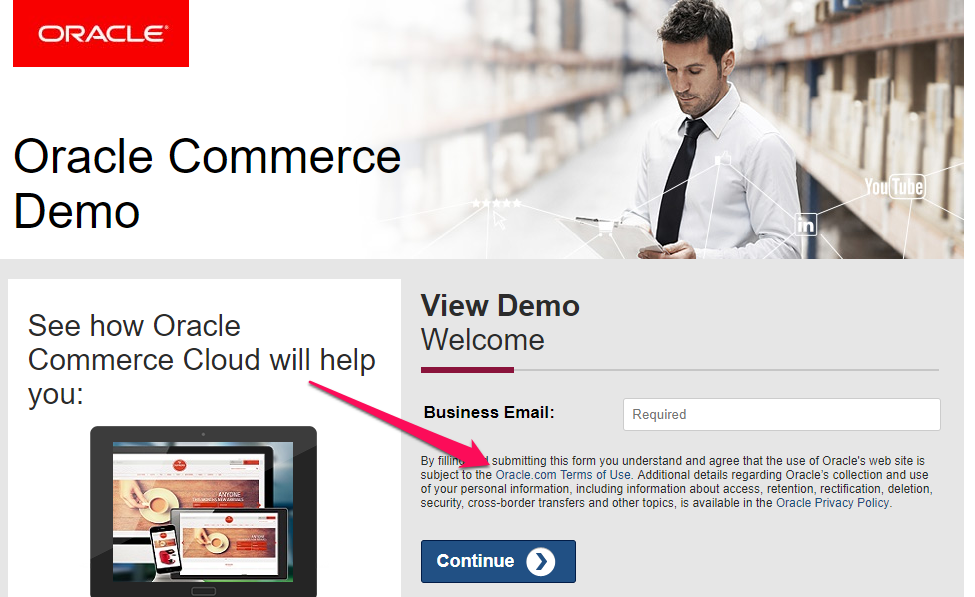 41. No Distractions
This means popups, social media buttons, widgets, sidebars and so on…
They just get in the way of the information your visitors came to your page for.
There are no distractions here: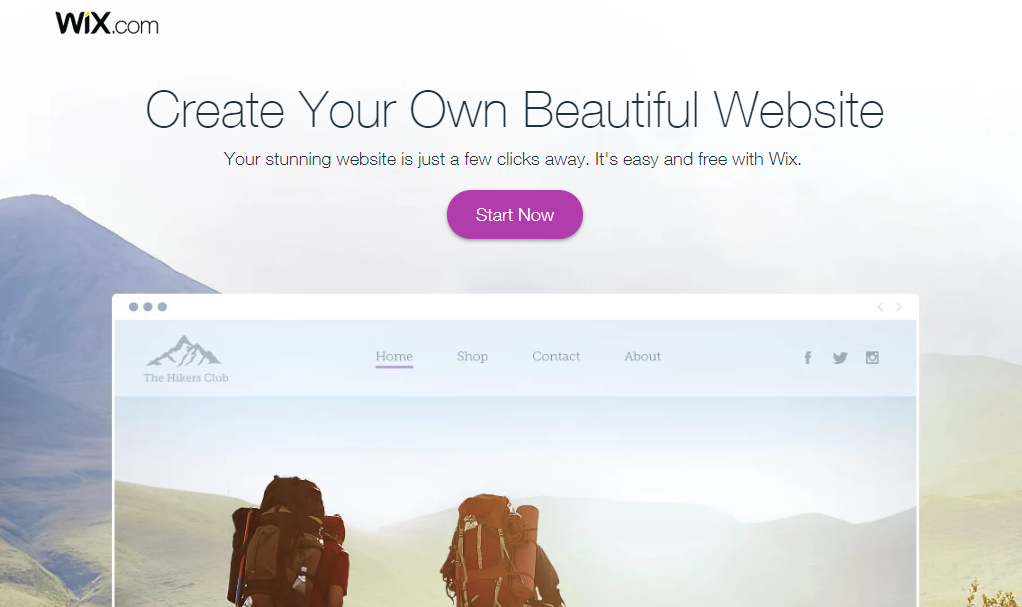 42. Confirmation Message
When people sign up on your landing page, you breathe a sigh of relief.
But it doesn't end there…
For good UX, visitors need to know that they have signed up successfully.
Otherwise, they'll figure their subscription hasn't worked and not give your company a second thought.
All it takes is a quick thank you message like this one:

Summing Up
If you want your landing page to be slicker than the average, then it needs to be optimized.
There are five key areas for you to analyze:
Design – Is your page designed to increase conversions?
SEO – Is it search-engine-friendly?
CRO – Do you have conversion strategies in place?
Copy – Is your copy alluring?
UX – Is it easy for users to navigate?
Now it's over to you to make sure you tick off every point on this checklist. If you need a hand going through this checklist for your landing page, feel free to schedule a strategy session with me.
Have you done anything in the past to optimize your landing pages? What are your conversion rates like? Or bounce rates? Leave a comment below!